stripes are done!! bumblebee is in da house
---
EDIT: updated pics on page 3
i'm gonna get some better shots tomorrow... but here's a few quickies...
and i took the car to Futral Motorsports today to try to get a computer tune done... but they didn't have the program for it. so he uploaded the info off my car's computer and said he'd have something ready for me next week or so. it was the first 5th gen they had seen in person and they were all over it.
---
"All alone in my funeral home, playing in blood, there's just got to be something wrong with me" -Slayer-
---
Last edited by SunsetHawkSelena; 05-14-2009 at

04:57 PM

.
Amazing! Well done!

Computer tune eh? Explain...
It looks soooo good.
---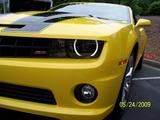 2010 Camaro RS SS LS3 (Bumble Bee) Vin#192 & 8 others made by GM and one Christine
What's next?

Why a tune first before intake and exhaust?

Just wondering?
---
2005 CTSV BLACK LS7 Clutch/Flywheel/Slave, Tick Speed Bleeder, Tilton Clutch MC, RevShift Bushings, Domestic V8 Solutions (shifter, 8.8 Diff conversion, srut tower braces, sub-frame connectors), SLP cats, no cags, xpipe, bullet mufflers, Volante, iPod dock, G-force tune; 379hp 381tq.

Killing 5th gens like it is my job.
Perfect, little kids are going to freak out when they see your car!
---
Cyber Grey w/ black stripes, Orange interior 2SS/RS sunroof, 20" polished wheels, ground effects, factory car cover, bumble bee style stripe kit VIN 2G1FT1EW7A9104005. Produced 4/20/2009, delivered 5/5/2009
Finn's Auto Restoration & Custom
Are the stripes painted?
---
Past: 1985 Chevy Camaro Z28 and 1996 Chevy Camaro Z28
Still have: 2001 Toyota Tacoma Prerunner
2010 Chevy Camaro 2SS/RS
: Ordered 01-13-2009: 2SS/RS M6 in Silver Ice with gray interior.
Born: 05-12-2009 - VIN: 9438 - Delivered to me on 05-29-09.
looks awesome cant wait till i get mine now
Veteran Member
Join Date: May 2008
Location: Windsor
Posts: 4,533
OMG those look 100000% better than the ones that end at the hood. CONGRATZ!!!
---
┌∩┐(◣_◢)┌∩┐