Jay Leno & 2010 SS
---
---
-1969 SS Convertible (real SS with factory A/C)
Mariner Blue - 350/5-speed. Owned since November 1985.
-2010 Camaro
2SS | M6 |
VR
w/
Gloss White Extended stripes
| 1 3/4" KOOKS | Magnaflow 3" cat-back | ADM tune (411 hp / 412 tq) | Halltech | MGW w/Race Knob | Spohn Trailing Arms | Hotchkis | TRS HID projectors | VMax ported TB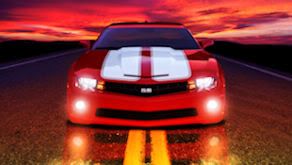 Join Date: May 2009
Posts: 107
it is worth watching, again...and again...and again...
it only make the wait that much harder.
"Immaturity - the badge of honor."

He is a TRUE car guy. None of this sissy shine my wheels and talk about how fast it is yet it's never seen smoke from the tires.

+1 for Jay.
Amazing how he can launch the car so well and smoke the tires lol

Jay looks like he has been through hell lol
---
Last edited by Jekyll-N-Hyde; 05-14-2009 at

01:38 PM

.
Veteran Member
Join Date: Jun 2008
Posts: 1,136
Nice video...Jay Leno seems to be a pretty tall dude, but there appeared to be several inches above his big noggin to the sunroof...Mikey likes it!
Join Date: May 2009
Posts: 7
Jay Leno Driving 2010 Camaro
---
Ok so now i see someone already posted it
---
Last edited by m0ore4ustin391; 05-14-2009 at

09:13 PM

.
When I was at the Houston show, there was a guy that stepped out of a camaro and he was 6' 8" and he said he had plenty of room!
---
2005 CTSV BLACK LS7 Clutch/Flywheel/Slave, Tick Speed Bleeder, Tilton Clutch MC, RevShift Bushings, Domestic V8 Solutions (shifter, 8.8 Diff conversion, srut tower braces, sub-frame connectors), SLP cats, no cags, xpipe, bullet mufflers, Volante, iPod dock, G-force tune; 379hp 381tq.

Killing 5th gens like it is my job.
Veteran Member
Join Date: Oct 2008
Location: Wetumpka, Alabama
Posts: 8,645
Great video but whats up with Jay's hair did he just wake up?
---
2014 2LT/RS with spring edition package. Proud Litho Owner #28.
Junior Member
Join Date: Jan 2008
Posts: 56
Nice, good to see Jay gets it!