I feel sorry for this one
---
Looks like a v6 though
---
Current: 00 z28 M6 T-tops
Past: 74 Stingray Vette, 99 Silverado 2500, 01 SS A4 T-tops, 95 z28 A4 T-tops, 96 v6 A4 T-tops (project), 97 v6 A4
RIP: 95 z28 M6
Not my cup o' tea...
---
2010 2SS/RS Auto, Sunroof, Engine Cover. Transformer Edition package.
2013 ZL1 ragtop #5478. 1 of 54 CRT M6 'verts.
looks like it can only go in a straight line or take slight corners
---
to Err is human, to blame someone else shows good managemt skills

06 Ponitac g6 gt
2010 Ram2500 Megacab Cummins
2010 Suburban LTZ
2012 Camaro 45th Aniv. Vert (Very shortley)
ick
---
2010-2SS/RS/LS3/IBM/RP6:
ECS-Paxton Supercharger / American Racing Headers & Exhaust / PFADT Suspension / DSS 9" 4.10 Rear / FOR SALE!
Quote:
Powerfreak is the only one who actually understood anything.
Yep, V6 fascia.
Just wheels. Swap a few nuts and you are back in business
Why would someone try to Pimp out a Camaro?
---
Jayhawk500
2010 2SS/RS, Six speed, Rally Yellow w/ Black Painted Stripes, Boston Acoustic Stereo, Polished 20" wheels, SOLO Mach X Catbacks, VIN # 4492
yuck
---
needs no explanation
VIN#A9148288
IN MY HANDS 10-7-2009!!!
I feel sory for the car, It will never know it is a performance car.
---
Last edited by BobGreenTX; 10-15-2009 at

03:06 PM

.
Veteran Member
Join Date: Oct 2008
Location: Wetumpka, Alabama
Posts: 8,645
enough said
---
2014 2LT/RS with spring edition package. Proud Litho Owner #28.
Is this going to become the spiderman edition
---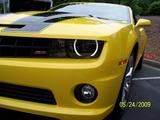 2010 Camaro RS SS LS3 (Bumble Bee) Vin#192 & 8 others made by GM and one Christine