Caravan of 2010 Camaros in Germany
---
These guys clearly love their cars! At 2:20 catch the one with the KITT strobing light in the "mail slot". After 2:30 some awful music comes on so you've been warned
[URL="http://www.youtube.com/watch?v=RtznpIkI05E[/URL]
I was hoping they were headed for the Autobahn *sigh*
---
Still legal in 16 states. It's happy. It's fun. It's Happy Fun Car.
Do not taunt Happy Fun Car.
Cool vid until the music started. Volume off. ok vid better again...
---
Black 2SS/RS 6M
ordered 5-23-09 : 3000 9-4-09: TPW-9-28-09 : VIN# 10-6-09 :
Received 10-28-09 Perma Grin since
---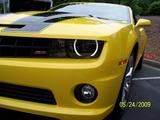 2010 Camaro RS SS LS3 (Bumble Bee) Vin#192 & 8 others made by GM and one Christine
Junior Member
Join Date: Jun 2010
Location: Katy, TX
Posts: 16
I miss living in Germany sometimes.
Cool video thx for sharing.
ModernCamaro.com Founder / Former Camaro Disciple
Join Date: Jan 2006
Location: Chicagoland, IL
Posts: 11,842
Sweet!
Always awesome to see Camaros on the other side of the pond.
The song they are using in the video is a cover of this song, but it's made to sound like a 50's do-wop group
http://www.youtube.com/watch?v=X75mry1LcFg
---
"Commitment leads to action. Action brings your dream closer."

Commitment= attending college
Action= graduating
Dream= graduating college with a new Camaro