SynergyGreen - The Color of Envy
---
Back in March SynergyBrandy and her husband Tom, took delivery of the very 1st SynergyGreen special edition Camaro that we got in! I wanted to make their purchase a little extra special so I reached out to the great team in Oshawa and here is what we came up with. --side note-- I made Brandy and Tom put on the SynergyGreen t-shirts I gave them before I would give them their "big" suprise.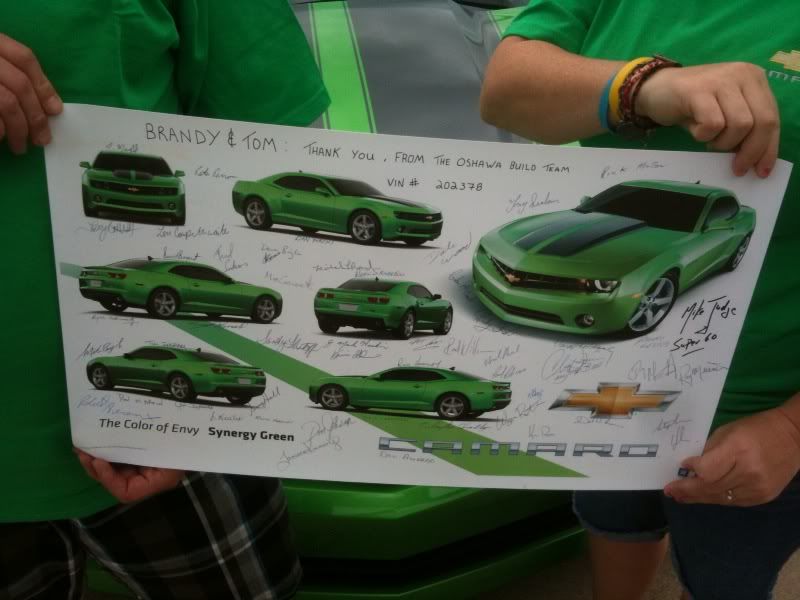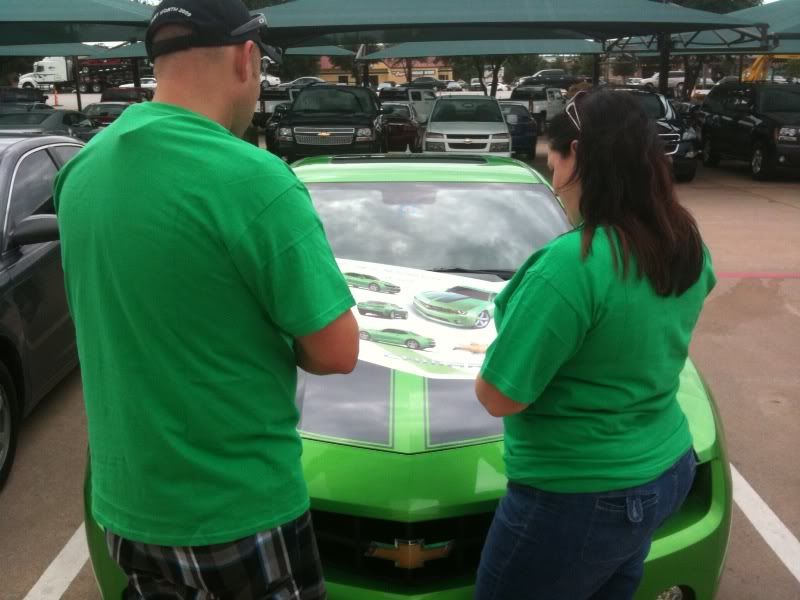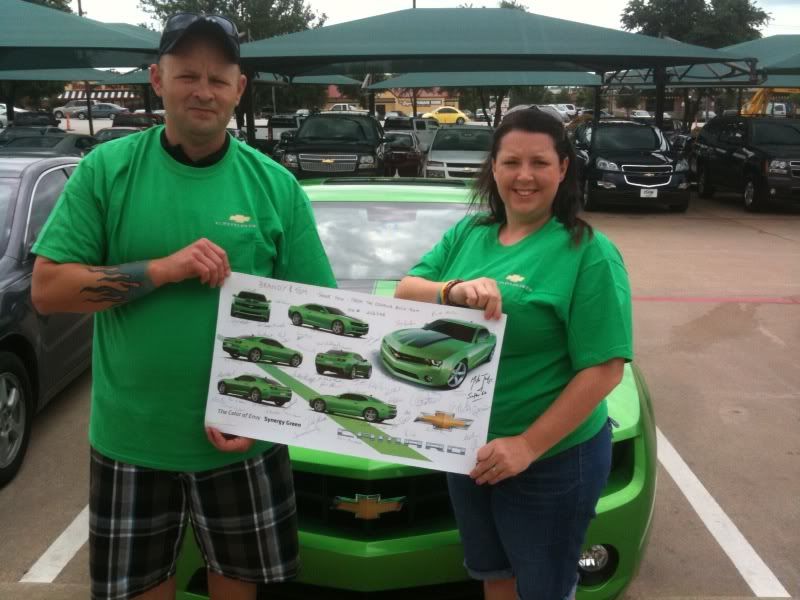 ---
SS-ERIC
---
Last edited by SS-Eric; 06-12-2010 at

12:51 PM

.
One of a kind poster!!
---
SS-ERIC
www.camaroscotty.com
Join Date: Jan 2008
Location: www.heiserchevroletcadillac.com
Posts: 5,298
Classy salesman are hard to find.... OK, they're not - three are on this forum
---
http://www.camaroscotty.com
YAHOO IM:
CamaroScotty /
FACEBOOK:
Camaro Scotty
ModernCamaro.com Founder / Former Camaro Disciple
Join Date: Jan 2006
Location: Chicagoland, IL
Posts: 11,842
That is awesome! Congrats Brandy and Tom!
oh man i am so jealous. congrats guys
---
welcome to alberta we eat cow, drill oil and rope calves
wants to push you down a flight of stairs to see if you are like a slinky or if you bounce like a ball... either way, I am quite sure I will be amused
Veteran Member
Join Date: Oct 2008
Location: Wetumpka, Alabama
Posts: 8,645
That is way cool congrats
---
2014 2LT/RS with spring edition package. Proud Litho Owner #28.
Quote:
Classy salesman are hard to find.... OK, they're not - three are on this forum
Umm...where?
---
2010 2SS/RS Auto, Sunroof, Engine Cover. Transformer Edition package.
2013 ZL1 ragtop #5478. 1 of 54 CRT M6 'verts.
Thanks everyone. Especially Eric. You have won the sales of all my new cars for as long as you sell them or as long as I buy them. Whichever happens first. This was the most awesome thing ever. It is actually at the shop having a custom frame made for it. It should take 10 days. When I get it back I will post the pictures. I didn't want to leave it with them. I turned to them and said I really have to leave this? Can't you just make the frame? Anyway Eric you are a real class act. I appreciate everything you have done. You have made this a truely GREAT buying experience.
---
"Drive it like you stole it!"
Thats cool.
---
Chance Favors The Prepared Mind!
Quote:
Look at it this way, if you have "Camaro" written on your car somewhere, you're already starting with a great platform!!
I just saw one this weekend and if you haven't seen one in person, then I would reserve your opinion until you do.

What a fabulous color!
---
2005 CTSV BLACK LS7 Clutch/Flywheel/Slave, Tick Speed Bleeder, Tilton Clutch MC, RevShift Bushings, Domestic V8 Solutions (shifter, 8.8 Diff conversion, srut tower braces, sub-frame connectors), SLP cats, no cags, xpipe, bullet mufflers, Volante, iPod dock, G-force tune; 379hp 381tq.

Killing 5th gens like it is my job.