* * * FIRST CAMARO HIGH-RISE SPOILER * * *
---
---
http://www.camaroscotty.com
YAHOO IM:
CamaroScotty /
FACEBOOK:
Camaro Scotty
---
Last edited by Camaro Scotty; 10-07-2010 at

08:28 PM

.
Veteran Member
Join Date: Oct 2008
Location: Wetumpka, Alabama
Posts: 8,645
UGH no no no
sorry that is not for me..
---
2014 2LT/RS with spring edition package. Proud Litho Owner #28.
Bleh! Looks like azz. JMO.
---
2010 2SS/RS Auto, Sunroof, Engine Cover. Transformer Edition package.
2013 ZL1 ragtop #5478. 1 of 54 CRT M6 'verts.
Make it stop!
---
"Ladies and gentlemen, take my advice. Pull down your pants... and slide on the ice." Sidney Friedman

"A hero is made in the moment, not from questioning the past or fearing what's to come."
They need to lower it a few inches. It is too high.
---
Silver Ice Metallic 2013 Camaro 2LT
Born 7/29/2012 Delivered 4/24/2013
CyCam1
glad i removed this from my order!!!
---
April 2010 Member/Car of the Month

Gone but not Forgotten!
not good!!
---
~owned by the best dad ever
I bet you can see a whole city if you climb that thing!
---
i dont like it
---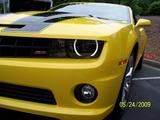 2010 Camaro RS SS LS3 (Bumble Bee) Vin#192 & 8 others made by GM and one Christine
Not for me....
---
2011 White Convertible 1LT IOM, Full JDM Colorshift Halo upgrade, Showstopper Camaro Bowtie Led Mirrors and Engine cover, Pace Setter Cat Back Exhaust, BK Coilover Kit, 21x9.5 and 21X8.5 Full Custom Cromed 21" GM wheels, Tinted windows, I WIN BEARS Plate. Full IOM dash and door update with IOM interior panels.