First photoshoot of my ride
---
Well, I've got her lookin' pretty much the way I want now, so after giving her a good waxjob today, I went downtown to take some pics. So this is how I personalized her:
Pinstriped SS stripes in silver and purple metallic
striped the gills the same way
painted the centercaps
added Decepticon emblems
So what ya think?
Bill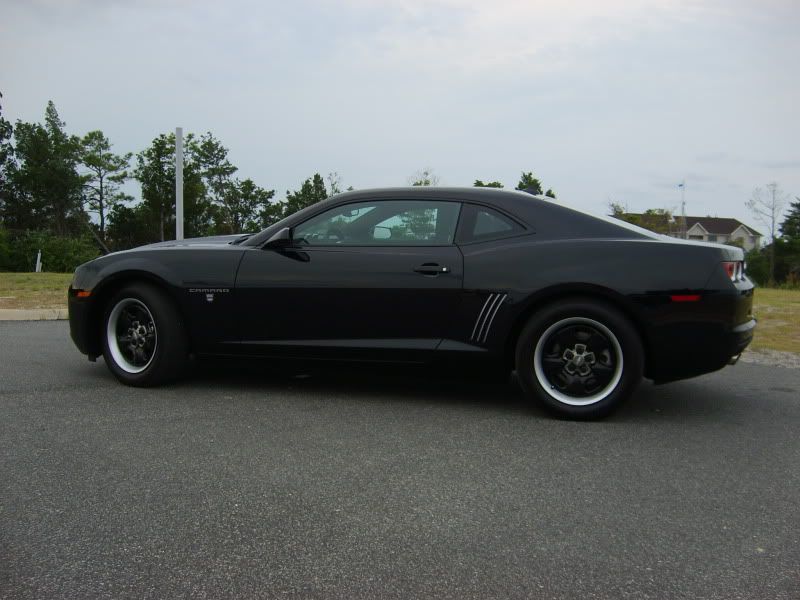 ---
'14 1LS
'13 1LT/RS
Camaro Family
Simple, classy and clean !!

Looks great.

Have more pics of the stripes?
Senior Member
Join Date: Jul 2011
Location: Manteo, NC
Posts: 676
Thanks, guys! I'm trying not to go overboard with the looks. I'll get a closer shot of the striping shortly. I went the that color combo to stay in theme with the Decepticon emblems I made. They're purple and silver hue.

Bill
---
'14 1LS
'13 1LT/RS
Camaro Family
I like the ghost strioes, ie pinstripes, great idea...like USA said, less is more....
---
2005 CTSV BLACK LS7 Clutch/Flywheel/Slave, Tick Speed Bleeder, Tilton Clutch MC, RevShift Bushings, Domestic V8 Solutions (shifter, 8.8 Diff conversion, srut tower braces, sub-frame connectors), SLP cats, no cags, xpipe, bullet mufflers, Volante, iPod dock, G-force tune; 379hp 381tq.

Killing 5th gens like it is my job.
yeah, heck yeah, that's really sharp. Way to go bro
---
At last--Dream
HAS BECOME
Reality....
Looks great, nice and clean! Great pics!
---
2010 2SS/RS, Heritage grill, Llumar window tint
Veteran Member
Join Date: Feb 2011
Location: Holly Springs, Georgia
Posts: 1,260
---
Buzz
2010 Synergy Green 1LT