Join Date: Aug 2006
Posts: 1,032
New Pontiac G8 may be built in U.S. as sales rise:
---
CHICAGO -- The Pontiac G8, which debuts early next year, will be the first vehicle sold in North America that uses General Motors' new rear-wheel-drive architecture.
More...
It will be good if this leads to more RWD platforms being built in North America.
ModernCamaro.com Founder / Former Camaro Disciple
Join Date: Jan 2006
Location: Chicagoland, IL
Posts: 11,842
It'd be great if they moved it to Oshawa after a couple years.
It'd be equally as great if they changed the name back to Grand Prix.
If GM keeps it up I'm gonna want all the rear wheel drive cars.
---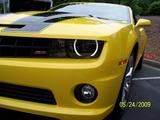 2010 Camaro RS SS LS3 (Bumble Bee) Vin#192 & 8 others made by GM and one Christine
Join Date: May 2006
Posts: 313
sorry to say this guys...but i'm hoping they keep the G8 production in Australia!

I think sourcing this car from Holden is a great way to ensure it keeps its sporty character & never becomes just a rebadged impala!