Join Date: Aug 2006
Posts: 1,032
Ford halts sale of F-series diesel trucks, citing tailpipe flames
---
WASHINGTON -- Ford Motor Co. today told dealers to temporarily stop selling certain 2008 F-series Super Duty diesel pickups after receiving reports of flames shooting out of the vehicle's tailpipe.
More...
****, if the ricers find out I could imagine seeing F series trucks with fart can exhaust as large as 5 gallon buckets.

Ford doesn't need their bread and butter model line in this situation.
No automaker needs that but I sure do wnat to see it!!!!
---
2006 Dodge Charger Daytona

Top Banana! 0653 of 4000
recall !!!! wait a minute, fire from exhaust is cool.
---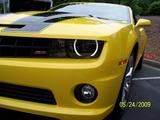 2010 Camaro RS SS LS3 (Bumble Bee) Vin#192 & 8 others made by GM and one Christine