Join Date: Aug 2006
Posts: 1,032
More Muscle: Cadillac's direct-injection allows V6 to pump out 300-hp
---
General Motors' use of the latest engine technology to help rebuild its image continues this fall with a powerful new engine for a pair of Cadillacs.
More...
GM needs something similar in the Camaro. I mean offering a 300 hp six cylinder. Might be good in the RS.
Buy a 300hp V8 Mustang or you could get a 300 HP V6 Camaro.
That would be like:
GM
Ford
ModernCamaro.com Founder / Former Camaro Disciple
Join Date: Jan 2006
Location: Chicagoland, IL
Posts: 11,842
Quote:
Originally Posted by Metallica - "King Nothing"
..careful what you wish, you just might get it...
whats even better is that the 300 hp v6 in the camaro will more than likely be underrated and the mustang 300 hp v8 will more than likely be overrated.
---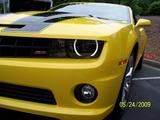 2010 Camaro RS SS LS3 (Bumble Bee) Vin#192 & 8 others made by GM and one Christine
man i would luagh my ass off if that was to be true... v6 out performing a v8..... but only GM can pull it off
Quote:
man i would luagh my ass off if that was to be true... v6 out performing a v8..... but only GM can pull it off
I wouldn't doubt it
---
Join Date: Mar 2006
Posts: 572
we've been studying this motor design for awhile at school, very interesting.

wats truely amazing is that, DI also enables u to run at as high as an 32:1 a/f ratio and not damage the engine, all thanks to a one of a kind piston design