Join Date: Aug 2006
Posts: 1,032
General Motors posts record global sales in first quarter
---
DETROIT -- General Motors Corp. said strong demand in Asia, Latin America and other emerging markets led to record global sales in the first quarter of 2007, according to preliminary sales figures released Thursday.
More...
thats great. now some of that $$$ should be used here in the U.S where sales are lacking.
What do you think Japan is doing.
And also sell this in commercials. Let the U.S. know that GM is doing record sales in the world.
Maybee it will wake some people up to the idea that buying foreign cars is not helping our economy as much as buying domestic.
:gr_patriot:
---
1994 Z28
Autobot
I would like to thank the person that came up with these fine avatar and signature's.

:gr_patriot:
---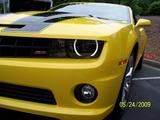 2010 Camaro RS SS LS3 (Bumble Bee) Vin#192 & 8 others made by GM and one Christine
Join Date: Jan 2006
Posts: 863