Veteran Member
Join Date: May 2008
Location: Windsor
Posts: 4,533
Confirmed: "Phoenix" Trans Am conversion kit coming for Camaro
---
Confirmed: "Phoenix" Trans Am conversion kit coming for Camaro

Quote:
So... as of January 1, 2010, Pontiac is dead. Buried. Gone forever. No more. Obviously, something as pesky as death ain't going to stop hard core Trans Am fanatics from driving an (almost) honest to goodness 2010 Pontiac Trans Am and/or Firebird. Why? If you have to ask... you bring up a good point. Especially because when you get right down to it, the Trans Am was rarely anything other than a Chevy Camaro with different sheet metal.

Keeping that in mind, Trans Am Depot will be offering body kits that will transform (lowly) Camaros into full-on screamin' chicken Trans Ams! Based off Kevin Morgan's original design(s), the Phoenix Trans Am kits will be unveiled at the 2009 Trans Am Nationals. And then you'll have the chance to own a Trans Am that costs more than a Camaro but is just as fast. Hey – just sayin'.
http://www.autoblog.com/2009/08/12/c...ng-for-camaro/
---
┌∩┐(◣_◢)┌∩┐
wonder what it will actually look like.
---
April 2010 Member/Car of the Month

Gone but not Forgotten!
---
2010-2SS/RS/LS3/IBM/RP6:
ECS-Paxton Supercharger / American Racing Headers & Exhaust / PFADT Suspension / DSS 9" 4.10 Rear / FOR SALE!
Quote:
Powerfreak is the only one who actually understood anything.
meh...and some people think the TE is cheezy...
---
2010 2SS/RS Auto, Sunroof, Engine Cover. Transformer Edition package.
2013 ZL1 ragtop #5478. 1 of 54 CRT M6 'verts.
Let it rest in peace.

This, not so much.
I'll wait for the Honda Type-R conversion kit.
---
Still legal in 16 states. It's happy. It's fun. It's Happy Fun Car.
Do not taunt Happy Fun Car.
Banned
Join Date: Jun 2007
Posts: 4,153
I'm going to reserve complete judgement for the unveil. The "yellow" car is obviously a photoshop. The black one I'm not sure about since they didn't pan around the car.

I will say one thing though:
There is no way they'll make this cost effective for the people who actually want a T/A. It'll be a neat novelty (like any kit car), but nothing more.

That being said, if they mass produce a three piece rear spoiler, that'll sell like hotcakes.
I guess the only good point is a new camaro has to be sold first.
---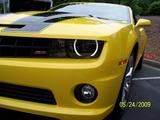 2010 Camaro RS SS LS3 (Bumble Bee) Vin#192 & 8 others made by GM and one Christine
I just remembered the last time something like this happened...
It was a flop based on the 04 GTO. I expect this Firebird to suffer the same fate.
---
2005 CTSV BLACK LS7 Clutch/Flywheel/Slave, Tick Speed Bleeder, Tilton Clutch MC, RevShift Bushings, Domestic V8 Solutions (shifter, 8.8 Diff conversion, srut tower braces, sub-frame connectors), SLP cats, no cags, xpipe, bullet mufflers, Volante, iPod dock, G-force tune; 379hp 381tq.

Killing 5th gens like it is my job.