Someone has to make ugly trucks, looks like ford gets to carry the torch. And besides all those urban cowboys love fords.
---
to Err is human, to blame someone else shows good managemt skills

06 Ponitac g6 gt
2010 Ram2500 Megacab Cummins
2010 Suburban LTZ
2012 Camaro 45th Aniv. Vert (Very shortley)
The current 09 is ugly. We have a few in our fleet. I like the interior, but the front is terrible.
---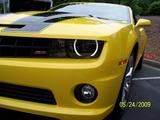 2010 Camaro RS SS LS3 (Bumble Bee) Vin#192 & 8 others made by GM and one Christine
It looks like a retarded transformer.
Quote:
It looks like a retarded transformer.
It's obviously a decepticon.... lesseee..what would a good transformers name be for this one?
"Corkybot"???
---
2010 2SS/RS Auto, Sunroof, Engine Cover. Transformer Edition package.
2013 ZL1 ragtop #5478. 1 of 54 CRT M6 'verts.
Veteran Member
Join Date: May 2008
Location: Windsor
Posts: 4,533
Oh God I didn't want to see this truck again. Why did I click on this? It looks like some type of Crustacean.
---
┌∩┐(◣_◢)┌∩┐
Baa definately not liking that. Wife wans an F250 but we definately are going to have to go older one cuz I can't handle that. I think the newer silverados are ugly as well but that looks even uglier IMO.
---
2000 Red 1SC Z28 A4 - dead for now
2005 Black GTO M6 6.0 - Split daily driver
1987 Silver Fiero GT - Split daily driver