HHR SS turbo
---
http://www.leftlanenews.com/leak-200...-revealed.html
"The first official images of the 2008 Chevrolet HHR SS have leaked online, ahead of its scheduled debut. Up until now, we've only seen spy photos of the new range-topper.
The photos have appeared on several online discussion forums, after being scanned from a dealer brochure sent out recently by GM. As expected, the retro wagon features a 2.0 liter turbocharged Ecotec engine.
While the brochure doesn't give a power rating, previous reports have indicated it will deliver 260 horsepower — identical to the Pontiac Solstice GXP.
The SS edition features a sportier interior with heavily bolstered seats, race-tuned suspension, a five-speed manual, and a leather wrapped steering wheel.
Production is expected start in December of 2007, which will give General Motors the flexibility in calling this either a 2008 model, or possibly even a 2009. "
---
1998 Camaro A4 7.06 @ 96.5 MPH NA 1.47 best 60ft
2010 Camaro Tube Chassis work in progress
Chevy already had a press release a while back they are going to roll back the SS badges and put them on vehicles that more represent what they are about
I'd roll the HHR SS
Join Date: Jul 2007
Posts: 97
that things even fuglier than a pt cruiser and a caliber
Cool i wonder what its going to do in the 1/4
---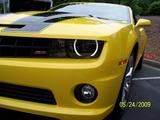 2010 Camaro RS SS LS3 (Bumble Bee) Vin#192 & 8 others made by GM and one Christine
I had one as a rental for a month about 10 weeks ago and they are a TERRIBLE vehicle.
You cannot see for shizzle anywhere outside of the vehicle.
The mirrors are useless and I spent so much turning around to see WHO I was hitting, that I might as well have been facing the other direction.
What's next AVEO SS?
---
2005 CTSV BLACK LS7 Clutch/Flywheel/Slave, Tick Speed Bleeder, Tilton Clutch MC, RevShift Bushings, Domestic V8 Solutions (shifter, 8.8 Diff conversion, srut tower braces, sub-frame connectors), SLP cats, no cags, xpipe, bullet mufflers, Volante, iPod dock, G-force tune; 379hp 381tq.

Killing 5th gens like it is my job.
Quote:
What's next AVEO SS?
LMAO
---
1998 Camaro A4 7.06 @ 96.5 MPH NA 1.47 best 60ft
2010 Camaro Tube Chassis work in progress
ModernCamaro.com Founder / Former Camaro Disciple
Join Date: Jan 2006
Location: Chicagoland, IL
Posts: 11,842
Hmm, I guess it did become HHR SS.
I was halfway expecting HHR Sport.
Either way, should be a pretty fun ride.
Join Date: May 2006
Posts: 313