Join Date: Aug 2006
Posts: 1,032
Home Improvement: Cerberus names former Home Depot boss as Chrysler CEO
---
With the ink not yet dry on its purchase, Chrysler LLC has named the controversial former Home Depot CEO Bob Nardelli as the new chairman and CEO of the automaker, according to a source familiar with the situation.
More...
Wow brass fittings, ceiling fans, and track lighting will all be available in the next generation of 300's and Pacificas.
---
Still a wannabe.
Maybe all new chryslers will come with built in grills and hardware trays
---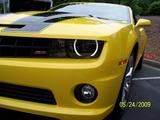 2010 Camaro RS SS LS3 (Bumble Bee) Vin#192 & 8 others made by GM and one Christine
ModernCamaro.com Founder / Former Camaro Disciple
Join Date: Jan 2006
Location: Chicagoland, IL
Posts: 11,842
You mean I can drive a powerful V8 and cook a steak at the same time!!?!
SIGN ME UP!!!
Maybe some illegal aliens in front of the dealership to go with the car in case it breaks down.
Sorry, I had to say it.
---
2005 Mustang GT-4.6L 3v /M5
2.3L Whipple Intercooled, 3.25'' pulley(11psi),FRPP 62mm TB, FRPP Stinger Axleback, UPR catted X-pipe, FRPP Handling Pack, 20'' Staggered Black Steeda Spyder Wheels, NT-05 Nittos, 3.73s, Hurst Shifter, and DF Centerforce Clutch

527rwhp, 479rwtq