ModernCamaro.com Founder / Former Camaro Disciple
Join Date: Jan 2006
Location: Chicagoland, IL
Posts: 11,842
Toyota knows Chevy Trucks are better
---
Spotted at the Texas State Fair today:
Toyota Racing trailer.
Being pulled by a
CHEVY SILVERADO
LOL @ Toyota
---
Last edited by OctaneZ28; 09-27-2007 at

08:14 PM

.
Banned
Join Date: Jun 2007
Posts: 4,153
LOL That's awesome! I can hear that announcer talking about his "6500 lbs of dead weight" right now.

Let me tell you something, if they dropped 6500 lbs of weight, free fall, off the edge of a cliff, and attached to a 5000lb truck, no amount of braking would keep that truck from slingshotting over the side of the cliff. That's got to be the stupidest f'n commercial I've ever seen!
Thats tooo funny..could of gotten a rig or something to haul them but they choose the smaller trailer pulled by a 5th wheel..

I guess the Tundra could not do it..
---
1994 Z28
Autobot
I would like to thank the person that came up with these fine avatar and signature's.

Quote:
It wouldn't even matter about tires and brakes...the front end would probably just flip up from all the downpressure and the thing would go cartwheeling off the side of the cliff or some ****. It's ugly as piss, too.
<--- Slanteyes! It also looks like it is all frowning and emo-like.
AMEN to that my brother!!! I hate those
[email protected]
#%ing trucks. I can't stand that slant eye look ALL those foreign POS have.
I guess what I can't understand is the big 3 have been making FULL size trucks for how long now? Why would anyone even consider something that is NEW to this market.
---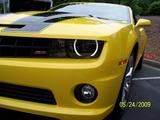 2010 Camaro RS SS LS3 (Bumble Bee) Vin#192 & 8 others made by GM and one Christine
Banned
Join Date: Jun 2007
Posts: 4,153
I don't think they're bad looking trucks. I like the new Silverado's better. But if it were a choice between that Tundra and the older style Silverado, I'd take the Tundra. When we bought the RAM we were TRYING to get a Titan LE.
****. That is funny.

Toyota doesn't made a truck good enough to haul their own stuff. Priceless
I hear the titans are total suck-buckets. There is a reason why you can get them so **** cheap. Engines that like falling apart, horrible fit and finish..and transmissions that can't find a gear when going up a hill. Or pulling any kind of load. They have a lower MSN user rating (it's around 5 last I checked) than my 97 S-10 does. And one story on one of those reviews a guy street-dragged a older Ford Powerstroke..the Ford totally kicked his ass.
I'd take a C10 over a Tundra.
Never pay again for live sex! | Hot girls doing naughty stuff for free! | Chat for free!