Join Date: Aug 2006
Posts: 1,032
Nissan Juke-R created from GT-R parts in Nissan video
---
Nissan has posted a second video of the Juke-R conversion on its Facebook and YouTube pages, highlighting the transfer of technology from the
More...
Premium Member
Join Date: Aug 2008
Location: Pennsylvania
Posts: 6,234
You already know what I'd say....
---
James 1:25 Ordered from Faulkner Chevy #NKCF02 1100 5/8/9 2000, 3300 7/16/9 TPW 7/20,GOT MY (low) VIN! 4000 7/24/9 ,Picked up 8/7/9!!! Signed Litho #45. Car signed by FBodfather 2011. Service: Jennings Chevy in PA. We don't "drift", kiddies... we
POWER SLIDE!
MOTM/COTM Sept 2012
Pro Patria Vigilans
.
Click the pic.. I don't tolerate fools.
I'm a GT-R fan....it will be interesting to see when similar technology has a chevy icon on it, how many people will be fans as well...
---
ZL1213 (formerly Z OHHH 6)
2010 2SS/RS (Auto/L99)
2012 ZL1 #213 - M6, Black on Black
Not a fan of the GTR, but I like this kind of build....
---
2005 CTSV BLACK LS7 Clutch/Flywheel/Slave, Tick Speed Bleeder, Tilton Clutch MC, RevShift Bushings, Domestic V8 Solutions (shifter, 8.8 Diff conversion, srut tower braces, sub-frame connectors), SLP cats, no cags, xpipe, bullet mufflers, Volante, iPod dock, G-force tune; 379hp 381tq.

Killing 5th gens like it is my job.
should be Joke-r, nissan is in my top 10 of most hated car brands
---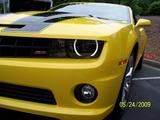 2010 Camaro RS SS LS3 (Bumble Bee) Vin#192 & 8 others made by GM and one Christine
the finished product should be interesting..........................
---
HA! Nissan is always good for a laugh!
---
sicker than most.
I actually like it..