Join Date: Aug 2006
Posts: 1,032
2012 SLP Chevrolet Camaro Panther 600: Panther Unleashed
---
There is no shortage of aftermarket Camaro offerings, so it's nice to see veteran General Motors tuners SLP come up with a novel Camaro package, one that even has some historical significance.
More...
SLP
---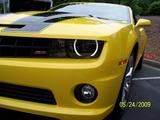 2010 Camaro RS SS LS3 (Bumble Bee) Vin#192 & 8 others made by GM and one Christine
This is what I'm talking about..... I had no idea that SLP was putting this out. I never knew Black & Gold looked so good together!!!
Reminds of the ol skool trans am
I like it too, more so if it was n/a
---
"Spending money I don't have, to buy parts I don't need, to impress people I don't know!" -Jenkins