Challenger
---
is a go!
http://detroitnews.com/apps/pbcs.dll...TO01/606300415
Chrysler is crashing the muscle-car party with plans to build a production version of the Dodge Challenger coupe that debuted as a retro-styled concept car in January at the Detroit auto show.
The automaker plans to herald the return of the Challenger at the Pepsi 400 in Daytona, Fla., on Saturday, according to people familiar with the plans
Congrats to them!
I'm sure Scott will post good news for us and minute now!!
---
Proud Owner of:
TT 2000 SS Camaro: 486 RWHP 493 RWTQ
1997 Silver C5
Daytona Sunset Orange 06 C6
ModernCamaro.com Founder / Former Camaro Disciple
Join Date: Jan 2006
Location: Chicagoland, IL
Posts: 11,842
Not unexpected, but still good to see.
More competition is gooder for the industry!
However, a faster, 500-lbs lighter, $10K cheaper Camaro for me please.
It's still a DCX product
It trailed the Bowties on the dragstrip through the sixties, time to pickup where we left off
Well I agree we should hear something in a matter of weeks!
the 4th of july coming out party! What could be more american than that!
---
Last edited by Gonna be a 5th gen owner; 07-01-2006 at

05:20 PM

.
Join Date: Jun 2006
Posts: 17
I am happy for all the DC folks out there that have confirmation on the Challenger. Being a Chevy man though I am still stuck in limbo waiting for my good news. I f it comes down to it and my dreams do not become a reality then I will have to settle for something else.
I think that you will not have to worry to long for an announcement I think that DC forced gm's hand on this one!
Trailed in the 60's?
---
You sure about that?
Sox and Martin were hard to beat ask Grumpy Jenkins. When the 426 Hemi arrived is was pretty much adios for Ford and Chevy. The only thing Chevy had going for it was you could mix and match parts and they were everywhere. The Keith Black Hemi was VERY expensive but ruled Rails and Funny Cars.
In Pro Stock,Grumpy was probably the main nemisis for Sox and Martin but I believe they won the lions share. (Not Sure, but I seem to remember I was always depressed when I looked at results.)
With Ford is was probably a bigger pain in the rear. Hell the 351's were even different Winsdor, Cleveland, Cleveland, Winsdor. Which part went where and where were they. Don't even try to get SOHC 427 they were rare.

Even in Nascar the Super Birds were unbeatable. Then Nascar put the screws to them and the 454 Monte Carlo became competitive and the Ford 427 or 428 started to make in roads.
---
Proud Owner of:
TT 2000 SS Camaro: 486 RWHP 493 RWTQ
1997 Silver C5
Daytona Sunset Orange 06 C6
I guess once the car is actually out then we will see, but what will it actually put to the wheels and with what weight? I've heard some of the numbers and if there true I don't think the 300 hp v6 camaro has anything to worry about.
---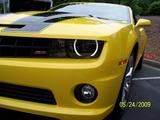 2010 Camaro RS SS LS3 (Bumble Bee) Vin#192 & 8 others made by GM and one Christine