Inside tour of the G8 plant
---
---
1998 Camaro A4 7.06 @ 96.5 MPH NA 1.47 best 60ft
2010 Camaro Tube Chassis work in progress
ModernCamaro.com Founder / Former Camaro Disciple
Join Date: Jan 2006
Location: Chicagoland, IL
Posts: 11,842
Sweet, I always like assembly plant pictures.
nice
---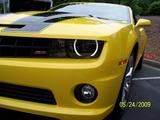 2010 Camaro RS SS LS3 (Bumble Bee) Vin#192 & 8 others made by GM and one Christine
Can't wait to see pics like this of the Camaro.
---
1998 Camaro A4 7.06 @ 96.5 MPH NA 1.47 best 60ft
2010 Camaro Tube Chassis work in progress
yea really, only the ywill be from the north of us instead half a world away.
Quote:
Sweet, I always like assembly plant pictures.
I love assembly line pics too. What's really cool is seeing really old assembly line pics from the 30s, 50s, 60s, etc.
---
Bob Lutz: "There's no doubt that a design-driven philosophy is the only one that will work. People who are not sensitive to design, people who don't care about vehicles, people who view a vehicle as an appliance, they just default to Toyota. We will never win that one."
---
Great pics of the plant, can not wait tell they have the
Camaro going down the line
I knew the G8 was on the commodore chassis but I didn't expect it to actually be on the same line like that. Cool.
---
2000 Red 1SC Z28 A4 - dead for now
2005 Black GTO M6 6.0 - Split daily driver
1987 Silver Fiero GT - Split daily driver