ModernCamaro.com Founder / Former Camaro Disciple
Join Date: Jan 2006
Location: Chicagoland, IL
Posts: 11,842
Weld Wheels - Bankrupt
---
Looks like Weld Wheels has gone Chapter 11.
American Racing is going to buy their assets.
Kinda sad really.
http://www.kansascity.com/mld/kansascity/15300296.htm
Join Date: Mar 2006
Posts: 38
never saw this one coming, ive noticed quite a few people running Welds, i thought they were doing good
Join Date: Jan 2006
Posts: 187
business was good, investments were not.
Sucks, but think of it this way - Donald Trump has filed for bankrupcy 2ce
I wonder how that works it seems like he has some dough!
man you gotta be kidding me, i plan on ordering some pro stars within a few days.
---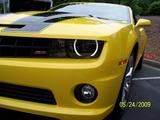 2010 Camaro RS SS LS3 (Bumble Bee) Vin#192 & 8 others made by GM and one Christine
better watch that order closely