Join Date: Aug 2006
Posts: 1,032
Dodge predicts brisk sales for Challenger
---
Dodge expects hot sales for the first two years with its new Challenger sport coupe and has built a business plan in which the car will make money over its life cycle if sales fall off then.
More...
Dodge fails to figure:

-Mustang refit in MY2010
-Camaro release
-Competition is still cheaper most likely
-Competition has been watching the progress of the Chally, they will make a move
-In my experience Dodge dealerships are the worst for price gouging a new car that people actually like from them, and they do it forever. Then they wonder why the car fails or gets label overrated. Hell, a camaro would be considered overrated if GM dealership for several months try to sell a 31k camaro for 40k regardless of how good the car is. They live for hype.
-They havent released the car for an objective review (dare I say it) like Clarkson and friends and other reviewers who like to fight trends.
---
2005 Mustang GT-4.6L 3v /M5
2.3L Whipple Intercooled, 3.25'' pulley(11psi),FRPP 62mm TB, FRPP Stinger Axleback, UPR catted X-pipe, FRPP Handling Pack, 20'' Staggered Black Steeda Spyder Wheels, NT-05 Nittos, 3.73s, Hurst Shifter, and DF Centerforce Clutch

527rwhp, 479rwtq
Banned
Join Date: Jun 2007
Posts: 4,153
20K/yr...That's just not a big number. The Mustang is doing what, 150K/yr?
I first started out as a huge plymouth fan/owner. Some of the recent pics i've seen of the challenger are not appealing at all to me. I guess i will need to see it in person to make my final judgement, but for now i don't like the car.
---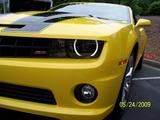 2010 Camaro RS SS LS3 (Bumble Bee) Vin#192 & 8 others made by GM and one Christine
Join Date: Apr 2008
Posts: 5
That really makes a difference but of course, that's Mustang.
___________________________
CAUTION! Blind Man Driving!
audi coil springs / aem intakes