Join Date: Aug 2006
Posts: 1,032
Shelby GT500KR priced near $80,000:
---
There's nothing low-key about the 2008 Ford Mustang Shelby GT500KR--including its price--which will be about $80,000 when the remake of the 1968 classic arrives in showrooms later this month.
More...
ModernCamaro.com Founder / Former Camaro Disciple
Join Date: Jan 2006
Location: Chicagoland, IL
Posts: 11,842
$80K? Are you friggin kiddin me? LOL

For $15K less you can have an equally powerful, just as fast, and way way more refined Cadillac CTS-V.

Or for $7K less you can have a much lighter and much faster Corvette Z06.
ouch....for a mustang??
---
'Winning'
and the best part is people are going to buy them. Have you seen the sticker on new saleens. We went to the auto show here and they had 2 stickered over 70k.
---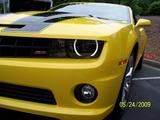 2010 Camaro RS SS LS3 (Bumble Bee) Vin#192 & 8 others made by GM and one Christine
The Shelby (rebadged mustang) crowd go crazy over these cars. The resale is also crazy high for the newer Shelby cars. Tons of Shelby fans and only a smallish number of cars.

The Saleen and Roush are no where near the Shelby in resale either.
Banned
Join Date: Jun 2007
Posts: 4,153
Hell...Dealerships were selling the regular GT500s for $75K after markup.
I guess it isn't about what else you like, Mustang guys will be all over it. Chevy guys usually opt for the Corvette etc
Great looking car, $80K cool? Not sure
Nice car but no where near worth 80K.
---
2000 Red 1SC Z28 A4 - dead for now
2005 Black GTO M6 6.0 - Split daily driver
1987 Silver Fiero GT - Split daily driver