Join Date: Aug 2006
Posts: 1,032
Hyundai Genesis luxury sedan to start at $33,000:
---
Hyundai Motor America has priced the new Genesis luxury sedan at $33,000 for the V-6 version and $38,000 for the V-8. Both prices include shipping.
More...
HYUNDAI and LUXURY
I can't believe they used those words in the same sentence, best part is some clown is going to think he has a real luxury car
---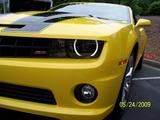 2010 Camaro RS SS LS3 (Bumble Bee) Vin#192 & 8 others made by GM and one Christine
They might be worth keeping an eye on, remember when Honda was a joke of a car in the 70's. Maybe to some they still are but they sell alot of cars.

I remember when I thought that Hyundai would never get anywhere. With those power numbers it might give the camaro a good run if they keep the weight down.
Banned
Join Date: Jun 2007
Posts: 4,153
Without separating into a luxury brand like the other foreign companies did here, I don't think that Hyundai will sell many of those at that price point. I'll take a G8, thank you very much.
ModernCamaro.com Founder / Former Camaro Disciple
Join Date: Jan 2006
Location: Chicagoland, IL
Posts: 11,842
Wow, a Hyundai Genesis is more expensive than a G8 GT.
That's downright silly.
I was never concerned with the Genesis in either form. Hyundai further disappoints with every news release.
---
2005 Mustang GT-4.6L 3v /M5
2.3L Whipple Intercooled, 3.25'' pulley(11psi),FRPP 62mm TB, FRPP Stinger Axleback, UPR catted X-pipe, FRPP Handling Pack, 20'' Staggered Black Steeda Spyder Wheels, NT-05 Nittos, 3.73s, Hurst Shifter, and DF Centerforce Clutch

527rwhp, 479rwtq