Finally saw a 2008 Challenger SRT8
---
I finally saw a Challenger SRT8 yesterday at Freedom Dodge in Lexington, KY. They actually had two of them. There was a Hemi Orange one that was marked "SOLD" and a black one.
I checked the sticker on the black one and observed that Freedom Dodge had tacked on a $20,000 mark-up.
I imagine somebody will still buy it, but I can't imagine having to have a new model so badly that I'd be willing to pay a 50% surcharge for the privilege. Some people have more money than sense, I guess.
Good looking car, and a little smaller than I expected it to be. That's a good thing. Still can't wait for the Camaro.
A 20,000 dollar markup!? Ridiculous. I guess they have to make their money somewhere, since they're selling fewer cars and struggling to stay afloat.
Join Date: Jul 2007
Posts: 189
Well, I was going to start a thread titled "First Contact: A Challenger Road Meeting", but this is as good as anywhere to tell you about the new boat I saw on the road today.

I was taking a short trip in my '68 when out of nowhere what should appear behind me....yep, a new red Challenger. I must admit, it looks pretty nice in the rear view mirror......and that's exactly where it should be. I tried to show a little muscle car camaraderie (forgive spelling on that one) by waving and giving a thumbs up but got nothing back. Now, I don't know if he was trying to draft me and conserve gas or if he was just pissed off about his possible mark-up he paid or if he really needed to get to a bathroom, but all this guy new was to have his foot in the pedal. Thankfully, we didn't have to find out how good Hagerty insurance is since he finally found a passing point that he could go around. Since I never got a wave back or anything from my gestures of good will, I really wanted to make him work for his pass, but I also wanted to hear that Hemi and see how the car looked all-around. OMG.......when he pulled over, I thought the sun would be eclipsed. This thing has got a bigger ass than Kim Kardashian. Just google her if you haven't seen it lately. I digress. Anyway, the rear window is lost by the what looks like a 6 foot tall bumper, spoiler, and tailight area. At one point, I thought it was a Durango. I really didn't expect it be so one-dimensional. It literally looked flat. Anyway, he got on the next cars ass and never got off it until the guy turned. One thing is for sure, this guy is gonna be spending a lot on gas and brakes with his new toy.

I'd be curious to hear some of your encounter stories as well.

Have a Happy 4th everyone.
I still thought it was pretty big. I hope the Camaro is a bit smaller.
Join Date: Jul 2007
Posts: 189
It really seemed tall looking at the rear.....almost top heavy. If you look at the pics of them side by side, the Camaro seems to be smaller and more of what I expect. I'm sure the flat nose and tall roofline are just adding to the Challengers mileage woes.

I guess this is another example of people talking about how you have to see all of the new cars in person to really "see" them.

They did get a push-button start though. DANGIT!
They are nice for sure - nothing wrong with the markup IMO - the first year run was sold out a while ago, if someone is willing to pay that more power to them
Oh, I have no problem with the dealers getting what the market will bear. I just can't imagine being one of the people willing to pay half again what the car is worth just to get one before everybody else.
last thursday i saw 2 orange SRT8's while driving to Santa Barbara. one got on the freeway and i tried to get in front of it, but too much traffic. then about an hour later, i saw the other on a car carrier. nice cars, but waiting impatiently for the Camaro!
---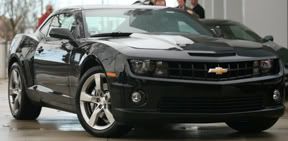 Join Date: Jul 2007
Posts: 189
Saw this one tonight at one of our monthly cruise-ins. Interest was high right when it got there, but quickly waned.
Join Date: Jul 2007
Posts: 189