Join Date: Aug 2006
Posts: 1,032
It's official: Tony Stewart leaving Joe Gibbs Racing:
---
NASCAR star Tony Stewart will indeed leave Joe Gibbs Racing at the conclusion of the 2008 Sprint Cup season, the team and the driver announced today. Stewart will complete the season behind the wheel of JGR's No.
More...
ModernCamaro.com Founder / Former Camaro Disciple
Join Date: Jan 2006
Location: Chicagoland, IL
Posts: 11,842
Excellent... he'll be back behind the wheel of a Chevy like he enjoys.
I knew he wanted out as soon as JGR switched to Toyota.
So the era of Stewart Haas Racing begins!
They have alot of work to do though, especially with Tony leaving both crew chief and sponsor behind.
But it's rumored that Ryan Newman may follow him to the new team, so that would be another great driver for the team.
They'll get it done.
Not that I care about Nascar anymore, but good for Tony. Screw toyota.
---
Bob Lutz: "There's no doubt that a design-driven philosophy is the only one that will work. People who are not sensitive to design, people who don't care about vehicles, people who view a vehicle as an appliance, they just default to Toyota. We will never win that one."
Quote:
Not that I care about Nascar anymore, but good for Tony. Screw toyota.
Ditto.
I wonder how many of his fans gave him crap. I know of a few guys at work who scraped off their TS decals on their windows of thier trucks.
---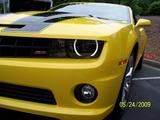 2010 Camaro RS SS LS3 (Bumble Bee) Vin#192 & 8 others made by GM and one Christine
not to many people are happy about the money in the pockets that toyota has given the teams. Many fans hate it..and many of the drivers hate that the owners "sold out" to this company.
Tony is a bowtie guy and he looks like he dont give a rats ass anymore about racing.wonder why.

but that little panty waist Kyle loves driving his Toyota.
---
1994 Z28
Autobot
I would like to thank the person that came up with these fine avatar and signature's.