Join Date: Aug 2006
Posts: 1,032
Moving Up?: Impala goes back to rwd in '09
---
DETROIT -- Chevrolet's Impala is going rear-wheel drive in 2009.
More...
Join Date: Sep 2006
Posts: 134
"General Motors sources say the next Impala will share a rwd platform with the upcoming Chevrolet Camaro, which will be built late in 2008 in Oshawa, Ontario. Impala production will start several months later, a GM source said ..."
Sounds like 2008 for the 5th
Great news for the Impala
Join Date: Jan 2006
Posts: 863
Yeah, we have known since August that Camaro production will start late '08, but it is not expected to go "on sale" until early 09.
Join Date: Jan 2006
Posts: 187
ModernCamaro.com Founder / Former Camaro Disciple
Join Date: Jan 2006
Location: Chicagoland, IL
Posts: 11,842
Hmm, I keep hearing 2009 or 2010 for the new RWD Impala.
Haven't seen anything official as to exactly when, but we know it's coming.
yes
---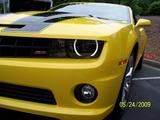 2010 Camaro RS SS LS3 (Bumble Bee) Vin#192 & 8 others made by GM and one Christine