NFB: New Mustang?
---
---
Proud Owner of:
TT 2000 SS Camaro: 486 RWHP 493 RWTQ
1997 Silver C5
Daytona Sunset Orange 06 C6
Join Date: Jan 2006
Posts: 863
What a total 5th gen RIP OFF.
i think i've seen a pic somewhere of the rear and its rather ugly. the lines do rip off the camaro concept
---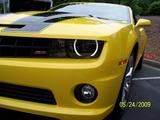 2010 Camaro RS SS LS3 (Bumble Bee) Vin#192 & 8 others made by GM and one Christine
OMG ummm i like it..... seriously wtf its not as bold and agressive as camaro but it is pretty sweet looking -_- i never thought it would look this good...the rims are awesome looking the hood is like a more tame version of the camaro's lights are kinda different but it looks pretty sweet!
Join Date: Mar 2006
Posts: 572
Quote:
What a total 5th gen RIP OFF.
Seriously!
Be back in a sec i have to go