Join Date: Aug 2006
Posts: 1,032
Toyota may lower forecast amid faltering sales
---
TOKYO -- Toyota Motor Corp., Japan's top automaker, reports earnings for the fiscal second quarter on Thursday. The following is a summary of key developments and analyst opinion related to the period.
More...
I'm so confused!!!!!! It says japan's top auto maker. I thought they were built in the US.
---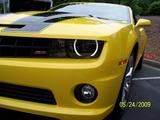 2010 Camaro RS SS LS3 (Bumble Bee) Vin#192 & 8 others made by GM and one Christine
Join Date: Jun 2008
Posts: 179
Some cars are? Camry, Matrix, and Tundra are (off the top of my head).
Veteran Member
Join Date: Nov 2007
Location: Jamestown,North Carolina by the way of Neptune,NJ
Posts: 1,257
well the camaro's canadian and australian so WTF?
Authentic born and bred american cars are harder to find than finding a virgin girl in a brothel
---
The Induction may be forced but your humilation is up to you

5th GEN.Org's Offical Protagonist
UNITED STATES ARMY 19K
Currently with 3rd ID,2nd brig,1-64th armored battalion,d-co,2nd plt FT.Stewart,Georgia
DOG FACE SOLIDERS HOOAH