Veteran Member
Join Date: May 2008
Location: Windsor
Posts: 4,533
Nissan GT-R is Automobilemag's COTY
---
Quote:
The much anticipated Nissan GT-R is the first Japanese supercar to seriously threaten the reigning opposition, many of whom the GT-R bested on Germany's renowned Nurburgring. Editors noted that while the Nissan GT-R rides like a subway car, sounds like an appliance and weighs a ton, it still deserved to be named Automobile of the Year for delivering high-intensity fun and astonishing performance.

'For decades, previous versions of the GT-R were never exported to the United States. Now we know what we've been missing, and are we happy to be invited to the party,' said Jean Jennings, president and editor-in-chief of AUTOMOBILE Magazine. 'What we love about the GT-R is that it refuses to compromise. It is not comfortable, it is not trying to make friends and it is not trying to influence people. It exists for one reason only ' to go fast ' and it does.'

In awarding the GT-R its ultimate prize, AUTOMOBILE Magazine editors cited the car's 'neck-snapping acceleration,' 'super-accurate steering' and 'incredible value' by supercar standards.
Take that Porsche!
---
┌∩┐(◣_◢)┌∩┐
I love ferrari....more than porsche or lambo.....i wanna see some numbers of a ferrari and the nissan.
---
'Winning'
Veteran Member
Join Date: Nov 2007
Location: Jamestown,North Carolina by the way of Neptune,NJ
Posts: 1,257
the scuderia would probably kill it but what the GTR does is pretty much the same but for a lot less money and that's what is a determining factor when they make these judgements.
FERRARI 430 SCUDERIA
515HP
$300,000(Good luck trying to buying one right now cuz you are gonna be on a waiting list for at least 2 years)
NISSAN R35 SKYLINE GTR
480 HP
$72-80,000(yeah you might be paying a few gran or more(more than likely more) over list for the GTR but nissan will be making alot more than scuderia so they will be more plentiful than compared to the scuderia
you can this or you can go with......
Chevy Corvett C6 Z06
505 HP
$75,000
OR $60K AND UNDER USED
I think most people here would agree that the z06 is a better buy
---
The Induction may be forced but your humilation is up to you

5th GEN.Org's Offical Protagonist
UNITED STATES ARMY 19K
Currently with 3rd ID,2nd brig,1-64th armored battalion,d-co,2nd plt FT.Stewart,Georgia
DOG FACE SOLIDERS HOOAH
Quote:
They forgot Nissan's record of cheating on the Ring and the GT-R crapping itself if you max it.
That's exactly what I was thinking.
GT-R......
---
its amazing to see how bias the article writing clowns are. When the zo6 first came out they all nit picked the car. Yet this pos comes over and they justify it.
---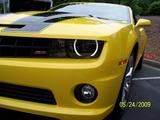 2010 Camaro RS SS LS3 (Bumble Bee) Vin#192 & 8 others made by GM and one Christine
Join Date: Oct 2007
Posts: 334
Nissan--------
Veteran Member
Join Date: May 2008
Location: Windsor
Posts: 4,533
Why is everyone angry? I know the GT-R could also win fugliest design of the year, but other than the no manual-transmission, porky weight, weak exhaust note, cramped rear seats, sharp exterior edges (the GT-R's designers obviously designed the car out of rulers) the fact that it sounds like an Asthmatic Maxima, slab sides, the IS-F/Corvette Fender Vents, and the fact that if you drive it the way a supercar should be driven, you are fined a bajillion dollars and your warranty is suddenly
'voided'
seemingly outta nowhere, it's a pretty decent car.
But seriously.
Nissan: "Do you have an SCCA license?"
Customer: "No..."
Nissan: "I'm sorry, we're going to have to void your warranty."
Customer: "I haven't even bought the car yet!"
I'm sure if you were to use the launch control on this car it would void your warranty.
In the GT-R's owner's manual: "depressing the accelerator pedal more than 1/4 of the way is considered abusive driving and will void warranty"
If you turn off VDC, you will- (you guessed it) Void your warranty.
I call it Voidzilla
---
┌∩┐(◣_◢)┌∩┐