Join Date: Aug 2006
Posts: 1,032
Toyota shows natural-gas Camry :
---
There are fuel sippers, and then there are fuel shunners. The Toyota Camry hybrid concept unveiled Wednesday at the Los Angeles auto show that runs on compressed natural gas falls into the second category.
More...
Join Date: Nov 2007
Posts: 19
Cool stuff...it's due time to get off of oil.
Here govt vehicles were in the process of getting converted to CNG. I had one for a while and it sucked. Noticable difference in power loss. The other problem is the complete lack of stations. It eventually FAILED and is no longer around.
---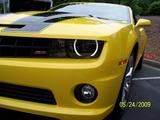 2010 Camaro RS SS LS3 (Bumble Bee) Vin#192 & 8 others made by GM and one Christine
Veteran Member
Join Date: May 2008
Location: Windsor
Posts: 4,533
Get rid of the toyota badge in the front. It's such an obtrusion. And it's boring. I respect the effort, though.
---
┌∩┐(◣_◢)┌∩┐