Join Date: Aug 2006
Posts: 1,032
RE-FUSION: Ford won't take yes for an answer:
---
The Ford Fusion family sedan introduced for 2006 has done well, garnering awards for quality and topping the Honda Accord and the Toyota Camry in the Consumer Reports reliability index.
More...
Veteran Member
Join Date: May 2008
Location: Windsor
Posts: 4,533
too much chrome. Looks slab sided and like everything else out there. I'm not hatin, I love the Fusion just not this one.

Has it gotten.... *gasp* boring?
---
┌∩┐(◣_◢)┌∩┐
I just saw the comment that was left that said the asian cars look better
the new camry is one of the worst looking cars i've seen come out in a long time.
---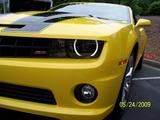 2010 Camaro RS SS LS3 (Bumble Bee) Vin#192 & 8 others made by GM and one Christine