ModernCamaro.com Founder / Former Camaro Disciple
Join Date: Jan 2006
Location: Chicagoland, IL
Posts: 11,842
RUMOR MILL: Saab, Saturn & Pontiac for sale?
---
GM Said to Study Shedding Saab, Saturn, Pontiac to Win U.S. Aid
By Jeff Green and Greg Bensinger
Nov. 26 (Bloomberg) -- General Motors Corp., working to cut costs to win $12 billion in government loans, is studying whether to shed its Saturn, Saab and Pontiac brands in addition to Hummer, people familiar with the matter said.
Selling or dropping brands would save money and reduce overlap as the biggest U.S. automaker struggles to avoid running out of operating cash by yearís end, said the people, who didnít want to be identified because no decision has been made. GMís other U.S. brands are Chevrolet, GMC, Buick and Cadillac.
The review of the 82-year-old Pontiac division, one of GMís earliest, shows the scope of the survival plan being given to Congress on Dec. 2 to show GM can repay federal aid. GM also seeks to cut debt levels and reduce costs for active and retired union workers, people have said.
Chief Executive Officer Rick Wagoner is under a deadline set by House Speaker Nancy Pelosi and Senate Majority Leader Harry Reid. Congress has scheduled a Dec. 5 hearing on a $25 billion auto-industry rescue and may vote the week of Dec. 8.
A GM spokesman, Steve Harris, declined to comment on what may be included in the Detroit-based automakerís plan.
Directors are scheduled to review a proposal Nov. 30 and Dec. 1, people familiar with the plans said. The automaker will prepare a 10- to 12-page public document and a private, more detailed plan of about 80 pages with background material, the people said. GM said Nov. 7 it may be short by yearís end of the $11 billion minimum in cash needed to pay monthly bills.
Source:
Bloomberg
Really?
Saab I can see shedding, but Saturn and Pontiac too? Yikes.
Keep the Pontiac brand. Killing Buick makes more sense.



Saturn: For people who like the Japanese/foreign car look. Their "no Haggle" price sucks only because it's WAY OVER invoice. Lower the No Haggle price and it's a decent brand.

Saab: Eh, who needs Saab when you have Opel?

Pontiac: SAVE.. Save.. SAVE

Buick: KILL..KILL...KILL if you want to get rid of a brand.
Wow I would have never thought saturn or Pontiac.

I would think kill US Buick and Hummer. Also Isn't GMC the same as Cheverolet? Couldn't they do without GMC?
---
1998 Camaro A4 7.06 @ 96.5 MPH NA 1.47 best 60ft
2010 Camaro Tube Chassis work in progress
Why Pontiac? Why?

Saturn is just ugly and a waste imo, Saab I have no comment on them.

Kill Off Hummer, Buick too... yuck.
Senior Member
Join Date: Sep 2007
Location: Canton Mi.
Posts: 523
is this what supported todays stock activity? GM stocks high was at 5.80 but closed at 4.? nice climb in one day.
---
just another guy dreaming of owning a 09 camaro
WWW.MYSPACE.COM/BDCNDE
Join Date: Aug 2006
Posts: 1,032
GM studies axing some lines, including Pontiac
---
General Motors Corp. is studying possible elimination of some of its brands, with options including Pontiac, Hummer and Saab, the Free Press has learned.
More...
Kill US Buick - I know big seller in China, fine just keep it there
Kill Hummer
Kill GMC -
WhyTF do we need two versions of the Silverado, Tahoe and Subruban??? This brand should be the FIRST to go!!!!
Keep Pontiac - But please inject some life into this "performance" brand. The Solstice and G8 are a start, but come on!!
Keep Saturn - As stated above, best domestic import option to alot of people.
---
Badger

04 GTO
Impulse blue, M6
Daily driver

05 GTO
Phantom black, M6
NASA Time Trial Racer
<3 China Buick.
---
1998 Camaro A4 7.06 @ 96.5 MPH NA 1.47 best 60ft
2010 Camaro Tube Chassis work in progress
I never cared much for Buick until we got the first Roadmaster now I love em and own 2. There is no way GM will kill Buick. I think they screwed up Pontiac with the G thing. G5 G6 G8 how about giving the cars a real name. The only G that is accepatable is GTO and that one causes enough controversy. Kill saturn why? seems like they are aiming at too many of their econo cars.
---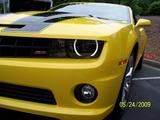 2010 Camaro RS SS LS3 (Bumble Bee) Vin#192 & 8 others made by GM and one Christine