Helios gets his stripes........
---
---it took some time to decide from the different packages we offer - and also to decide on the right color.......
This is our "Vertical Stripe Package" in Black - ( $249 at your local Chevy dealer) - they come in Black, White, Gray, Orange, or Red at this point in time....
Here's a couple of pics of Helios 'sunning himself' with his top down at Pier Park in Grosse Pointe Farms earlier this afternoon.......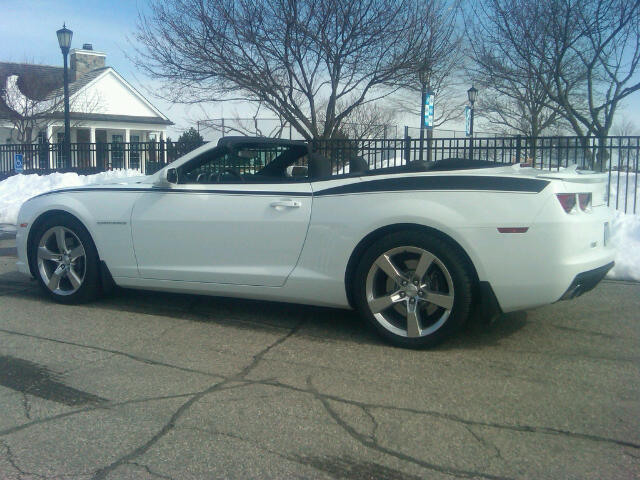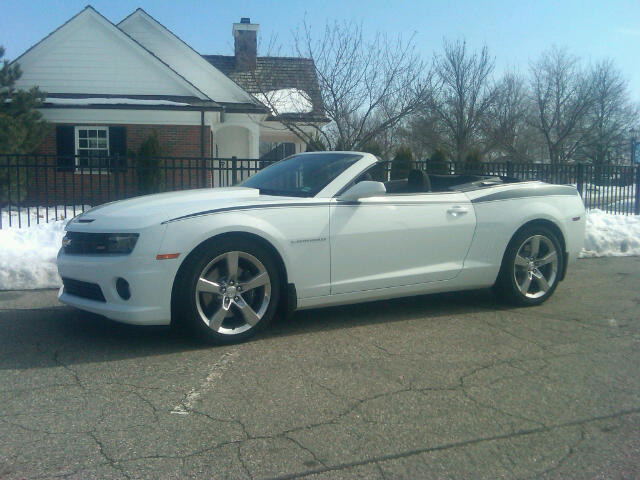 ....and one with his top up.......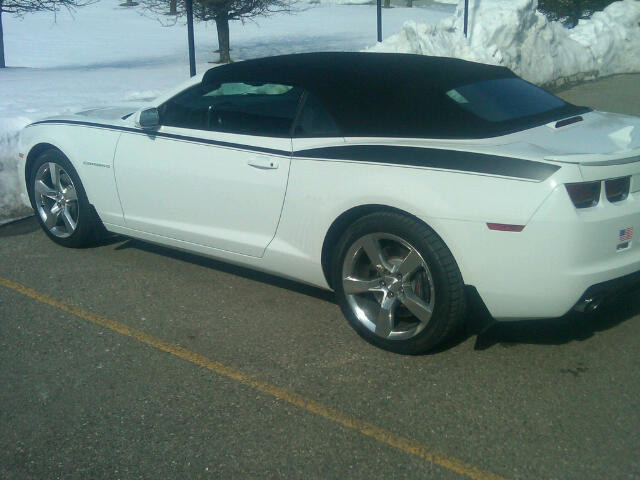 I like the clean, simple look of the stripes - plus they're new on the market -
The black stripes on the white go very nice.......with all the snow on the ground
Looks Great!
---
__________________
2011 2ss/RS Black over RJT Convertible-Bre-Z
Facebook @
www.Facebook.com/CamaroCX3Cover
Proud owner of Litho #198
I have to say, out of all stripe packages, that is my favorite. I thought about putting stripes on Bella, but I am going to leave her as is.
---
Sept '10 Member of the Month

Track your Camaro @ www.gmconnects.com
"Bella" 2SS/RS, ABM, L99, Foose Chrome Legends, Heritage Grille, Corsa CB, K&N CAI
[email protected]
great choice on the stripes. helios looks fanfreakingtastic
---
welcome to alberta we eat cow, drill oil and rope calves
wants to push you down a flight of stairs to see if you are like a slinky or if you bounce like a ball... either way, I am quite sure I will be amused
Veteran Member
Join Date: Oct 2008
Location: Wetumpka, Alabama
Posts: 8,645
They look great on the vert follow the lines very nice
---
2014 2LT/RS with spring edition package. Proud Litho Owner #28.
man that looks totally sick!
---
2011 Chevy Camaro 2LT/RS Convertible Auto, CGM
2010 Chevy Camaro 1LT 3.6L Manual [Production #115] Black with cyber grey stripes (
http://www.cardomain.com/ride/3370622
)
Traded 12/10/11
August 2011 MotM
-
"Team LLT"
representative
South Jersey Camaro Club member
www.camaroscotty.com
Join Date: Jan 2008
Location: www.heiserchevroletcadillac.com
Posts: 5,298
now we need a SLP supercharger
---
http://www.camaroscotty.com
YAHOO IM:
CamaroScotty /
FACEBOOK:
Camaro Scotty
NIIIICE!!
---
"All alone in my funeral home, playing in blood, there's just got to be something wrong with me" -Slayer-
Very slick, well done
Senior Member
Join Date: Jan 2011
Location: Jersey
Posts: 808
Looks great!!! Excellent choice...
---
Dodger
http://www.southjerseycamaro.com
ModernCamaro Member/Car of the Month: May 2012