Camaro Z28 Rendering
---
According to Left Lane News:
Quote:
The aggressive front fascia and unique hood are believed to be almost spot-on, while our latest illustration shows one of several expected wheel options for this top-of-the-line Camaro.
http://www.leftlanenews.com/chevrolet-camaro-z28.html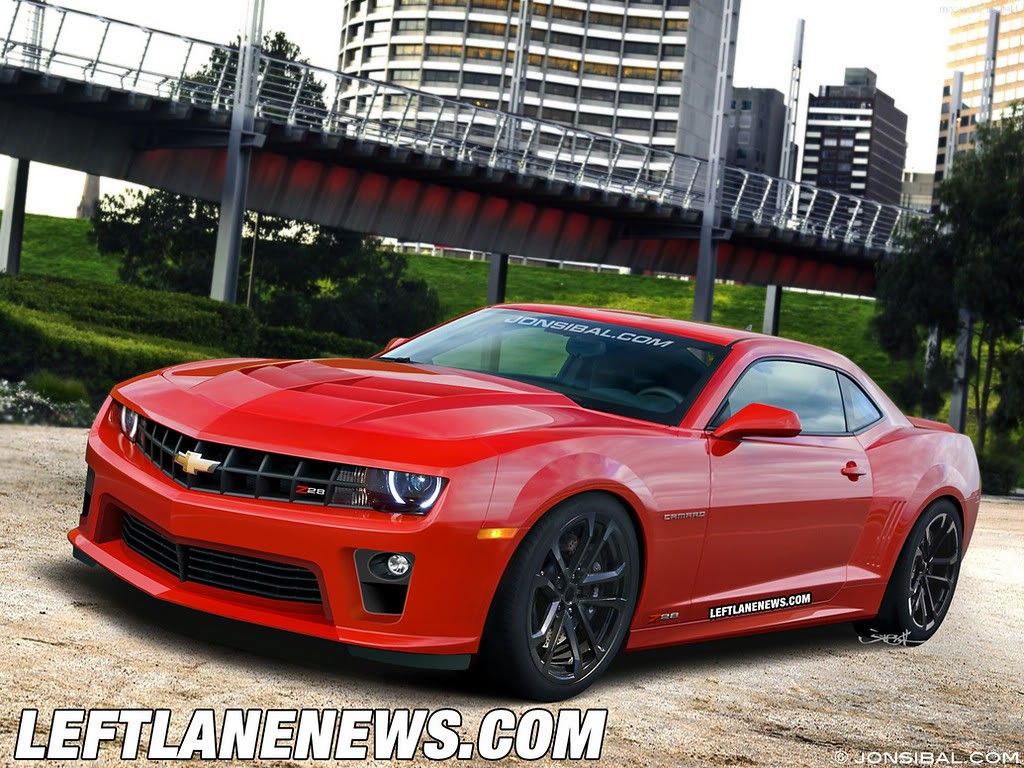 DO WANT!
---
April 2010 Member/Car of the Month

Gone but not Forgotten!
not bad...wheels are cool...hood is kinda fugly though, they can do better. I Like the fascia more than in previous pix.
---
2010-2SS/RS/LS3/IBM/RP6:
ECS-Paxton Supercharger / American Racing Headers & Exhaust / PFADT Suspension / DSS 9" 4.10 Rear / FOR SALE!
Quote:
Powerfreak is the only one who actually understood anything.
That hood sucks.
---
You have been banned for the following reason:
No reason was specified.
Date the ban will be lifted: Never
The other websites awsome excuse to ban me.
Username: Rodimus Prime Password: Rebecca1
Not liking the hood either. Glad the mail slot is gone though.
---

"BBOMG - More than just a car show.....it's an experience!"
Need to contact me? layssenATaol.com
meh, just more speculation. the only people who know for sure ain't talkin' (and i'm not even privy to any of that info so don't ask me *shrugs*)
---
"All alone in my funeral home, playing in blood, there's just got to be something wrong with me" -Slayer-
i think the front end is pretty accurate, but i'll bet that aint the hood on the production car.

mixed feelings on the side skirts, and i don't really like the wheels... good thing there will be 3 different designs in 2012 to choose from!

i really like how there is air ducts/brake vents on the front bumper like the CTS-V has!
---
April 2010 Member/Car of the Month

Gone but not Forgotten!
Premium Member
Join Date: Apr 2010
Location: Hurst, Texas
Posts: 4,366
Now who has a picture of the z/28 vert? Hood sucks....
---
2010 2SS/RS A6 L99 Born 09/16/2009 Vin#9146985
ModernCamaro Car of the Month Jan 2013
CAI,Axle back exhaust, V Max Throttle Body
All this seems to based off the mule. Which means....jack diddly.

There's only 50/50 chance at best ANY of the asthetic appointments will make it to the production vehicle. It's just someone hoping/wishing, and the speculation is always fun. Only the people in the know at GM knows exactly what this beast will look like when it does roll out. Unless they've changed their tack about future models, I have a hard time believing they're showing any cards at this point.

I'm no fan of that hood at all, so if it does come to pass as a factory item, that hood will get put in a box and set in the corner if I ever owned one.
---
2010 2SS/RS Auto, Sunroof, Engine Cover. Transformer Edition package.
2013 ZL1 ragtop #5478. 1 of 54 CRT M6 'verts.
come on guys it is gonna be bad ass car i hope it has the same engine the corvette (ZL1)? 638 HP has i have 25K saved for a down payment on one AUGUST2011 cant wait
---
[
]