I could not resist...I bought a 1 of 54, CRT 'vert ZL1 #5478
---
Picked this up on 08/26/13 at Henna Chevrolet in Austin, TX. Another Texas car!! CRT ZL1 convertible, VIN #5478. 1 of 54 CRT 'vert M6s for 2013. According to Scott Settlemire, it roared to life on 1/28/13 and sent to Henna. Why it sat there for so long, who knows? I have seen SEVERAL 'vert ZL1s sitting for months at dealerships. My guess is that they marked them up like a mofo and now are stuck with them. (there was an IOM at Joe Van Horn's Chevy in Plymouth, WI if someone is looking...that was my plan B. It was $59,500 but didn't have the ECF or other LPO options).
Car listed for $65,415, it was on sale at $59,995. ECF, 5 spokes, NAV, Suede wheel/shifter knob, LPO trunk mat, LPO trunk net, and LPO ZL1 floor mats and the LPO footwell and cupholder lighting package. They didn't have a ZL1 hat in stock, so they're ordering one for me and sending it to me.
After I sold the '02 SS, I put the money in the bank and had a wad of cash just sitting there...I was going to send the kids to college, but then I realized
hey, I don't even have kids
....how convenient for me!!!!
A $200 plane ticket and a cab ride (reimbursed) to the dealership in Austin and I got to drive home this beauty!!! I'm in ULTRA GRIN mode. And bonus for me, I've got another 279 more miles until I hit the 1500 mile break in mark!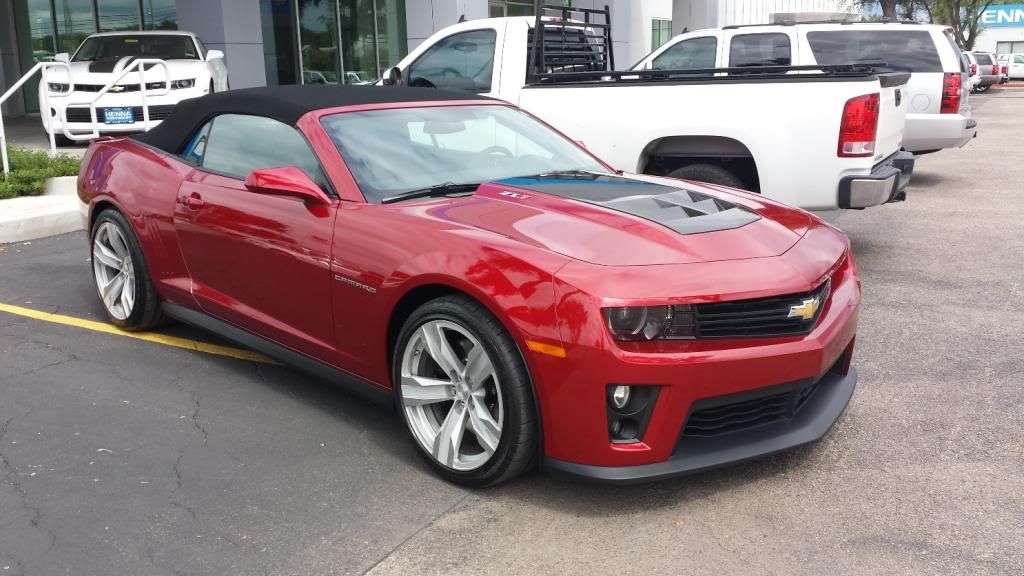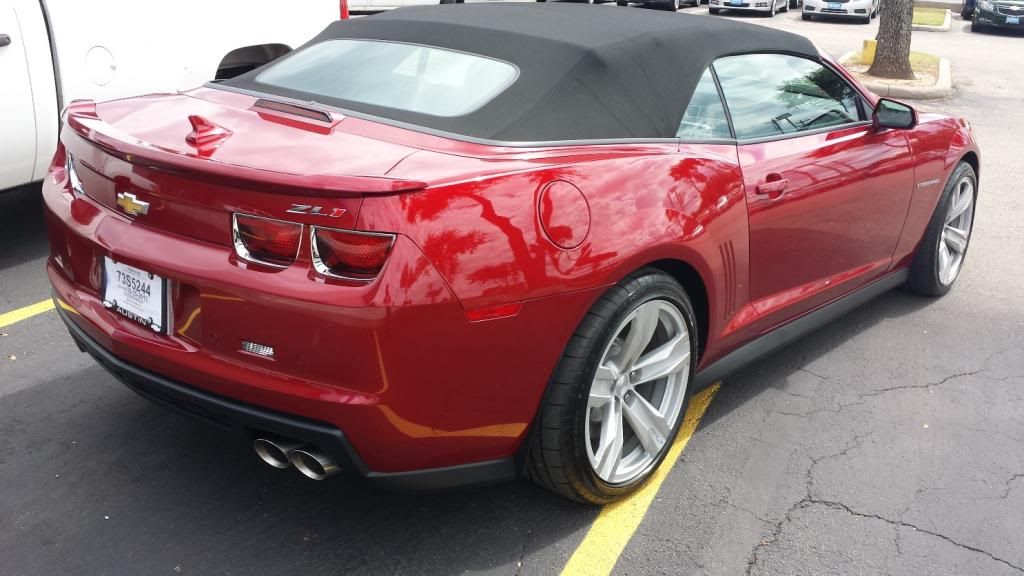 This is on 31 toward Tyler, TX. I call it a MUSTANG RAINBOW. Rainbow for the well....you know. And at the end of the rainbow, there sits THE ONLY mustang that will make me turn over my Camaro keys and pledge my first born to the big blue oval. And it sits right next to that pot of gold.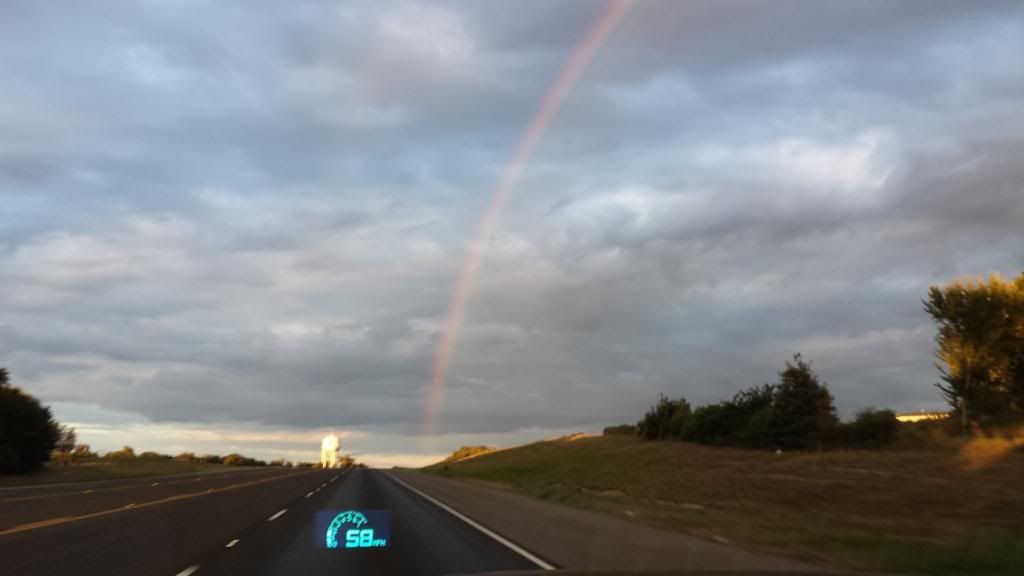 Getting gas topless.
And finally at home. Now the 'bee has a younger, albeit badder brother to play with.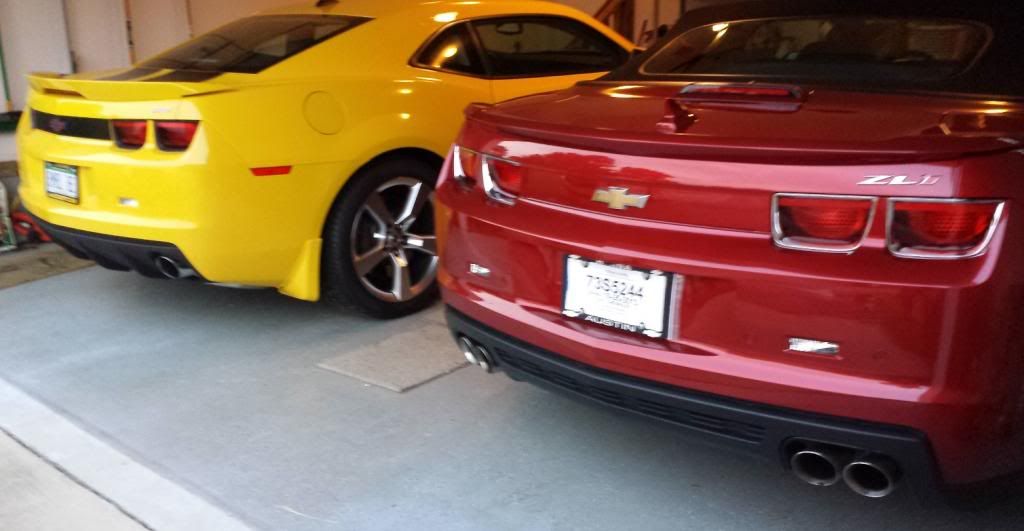 And my first mod??? A locking gas cap.
---
2010 2SS/RS Auto, Sunroof, Engine Cover. Transformer Edition package.
2013 ZL1 ragtop #5478. 1 of 54 CRT M6 'verts.
Veteran Member
Join Date: Oct 2008
Location: Wetumpka, Alabama
Posts: 8,645
Awesome she looks great
---
2014 2LT/RS with spring edition package. Proud Litho Owner #28.
Wow, you did it, what a sweet girl she is, she went to a great home, Congrats bro, I bet you can't wait to open her up & feel her ROAR
Whats her name, are you getting a key plate for her edition.., can't wait to hear what you got planed for her.. more pics to come, hope'n soon
+
Edit; Oh.. um please don't forget to post on our vert color & count thread
100% free webcam site! | Awesome chicks and it is absolutely free! | Watch free live sex cam - easy as 1-2-3
---
Getting way pumped up ..LOL(Never giving up !)
The all new Convertible (Born 1/11/11) !, Welcome to the Fleet !
SHADOW 2013 GBA 2SS/RS A6 Vert (2/13/14)
"FROST 2011 SIM LT1 A6 " FIRST VERT MOTM AUGUST 2013
*PROTESTING GM*
"GIVE ME MY13'IBM ZL1 vert GM!"
---
Last edited by hotrodhoodrat; 09-03-2013 at

05:50 AM

.
First- I appreciate the support.
Second- according to Scott, Camaros aren't a "she".
I put a grunch of money down and still have car payments! (albeit very reasonable)
Third- I'm not sure what's going to happen as far as further mods. I kinda like him the way he is. MAYBE some gill shadow stripes and some front fender flaps custom made to mimic the rears, and that's pretty much likely going to be it. I really enjoy the car how it came. I can't think of anything to improve. One other thing might be to buy another supercharger cover and paint it CRT to match the car. Whatever it may be, it'll be minimal.
---
2010 2SS/RS Auto, Sunroof, Engine Cover. Transformer Edition package.
2013 ZL1 ragtop #5478. 1 of 54 CRT M6 'verts.
Premium Member
Join Date: Apr 2010
Location: Hurst, Texas
Posts: 4,366
Wow, Congrats on the new member of the family! HE looks awsome and I'm sure the "grinnin" ride home was fun too!
---
2010 2SS/RS A6 L99 Born 09/16/2009 Vin#9146985
ModernCamaro Car of the Month Jan 2013
CAI,Axle back exhaust, V Max Throttle Body
Junior Member
Join Date: Aug 2013
Posts: 29
Congratulations!
Congratulations on a truly beautiful ride, I can always dream of driving a zl1 lol. I agree that your car is perfect as it is, and "bee" isn't looking too shabby either.
---
NEOCC Member since 2013
Haha. No, I never name my cars. But I guess if I were GOING to....it would probably be Animal... like in Animal Mother.
---
2010 2SS/RS Auto, Sunroof, Engine Cover. Transformer Edition package.
2013 ZL1 ragtop #5478. 1 of 54 CRT M6 'verts.