2007 honda shadow for sale
---
(BEST OFFER)I know its not a car but someone on here has got to ride lol.
need to sell so I can put down payment on my new camaro when it comes in
selling a 2007 honda shadow 750cc, only 1100 miles on it, not even broken in, very clean, showroom condition, never been laid down. comes with an all weather bike cover, 3 helmets, and a battery tender. blue book is $5,500 and thats what im asking for it. (5,900 if you want the bike cover, 3 helmets, windshield, and battery tender with it) paid $7,500 for it. So, who wants to help me put that down payment on the new Camaro
if interested contact me by email,
[email protected]
, or by phone 757-339-5753, ask for rick. thank you for your time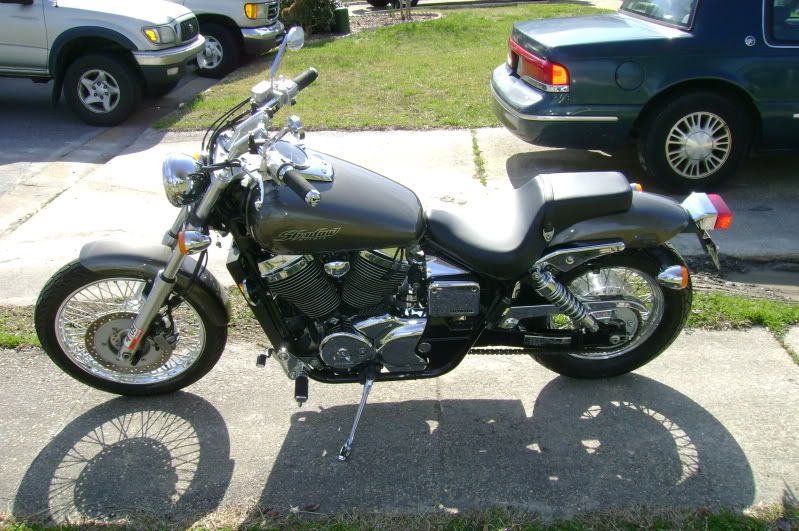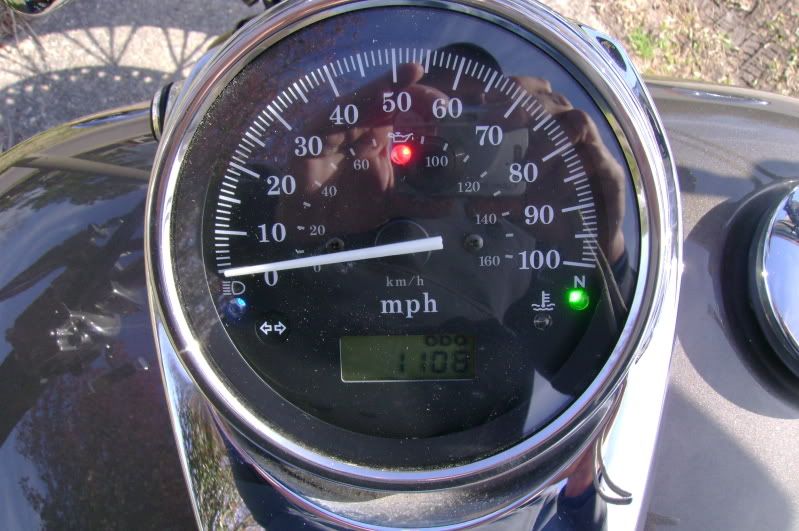 GENERAL INFORMATION
Manufacturer Honda
Model Year 2007
Model Shadow Spirit™ 750cc (VT750DC)
Price $5,500
Color Metallic Titanium
ENGINE:
Engine Liquid-cooled, 52° V-twin, SOHC, 3-valves per cylinder
Displacement 745 cc
Bore x Stroke 79 x 76 mm
Compression Ratio 9.0:1
Carburetion Two 34 mm diaphragm-type CV
Ignition CD with electronic advance, 2 spark plugs per cylinder
DIMENSIONS:
Weight 496 lbs.
Wheelbase 64.8 in.
Fuel Capacity 3.6 gal. including 1.3 gal. reserve
Seat Height 26.6 in.
DRIVETRAIN:
Transmission Wide-ratio 5-speed
Final Drive O-ring-sealed chain
BRAKES/WHEELS/TIRES:
Brakes Front: Single 296 mm disc with twin-piston caliper
Rear: Drum
DRIVETRAIN:
Suspension Front: 41 mm fork; 5.1 in. travel
Rear: Dual shocks with 5-position spring-preload adjustability; 3.2 in. travel
BRAKES/WHEELS/TIRES:
Tires Front: 110/80-19
Rear: 160/80-15
Rake 34°
Trail 6 in. (152 mm)
---
1100: 2/23/09
2000: 8/7/09 (finally)
3000: 8/11/09 (TPW 9/14)
3300: 9/2/09
3400: 9/14/09
3800: 9/22/09 vin 48156 has been born
---
Last edited by ricku1967; 04-06-2009 at

11:17 AM

. Reason: adding information
yes i know lmao, camera is broken..pic's to follow in a day or two
---
1100: 2/23/09
2000: 8/7/09 (finally)
3000: 8/11/09 (TPW 9/14)
3300: 9/2/09
3400: 9/14/09
3800: 9/22/09 vin 48156 has been born
i borrowed a camera from a neighbor just now, i will have better pic's up when its day light
best i can do right now. thats why i said i would email pictures lolhttp://www.5thgen.org/forum/attachment.php?attachmentid=1267&stc=1&d=123672945 1
---
1100: 2/23/09
2000: 8/7/09 (finally)
3000: 8/11/09 (TPW 9/14)
3300: 9/2/09
3400: 9/14/09
3800: 9/22/09 vin 48156 has been born
bump.....since i now added pic's
---
1100: 2/23/09
2000: 8/7/09 (finally)
3000: 8/11/09 (TPW 9/14)
3300: 9/2/09
3400: 9/14/09
3800: 9/22/09 vin 48156 has been born
ANOTHER BUMP :0...ADDED MORE INFO
---
1100: 2/23/09
2000: 8/7/09 (finally)
3000: 8/11/09 (TPW 9/14)
3300: 9/2/09
3400: 9/14/09
3800: 9/22/09 vin 48156 has been born
bump, because I lowered the price....come on guys, great bike with extremely low miles and at at fantastic price. if you dont want it at least put the word out for me
thank you 5thgen
---
1100: 2/23/09
2000: 8/7/09 (finally)
3000: 8/11/09 (TPW 9/14)
3300: 9/2/09
3400: 9/14/09
3800: 9/22/09 vin 48156 has been born
www.camaroscotty.com
Join Date: Jan 2008
Location: www.heiserchevroletcadillac.com
Posts: 5,298
hit RETURN after your pic links, then the thread won't be a mile wide
---
http://www.camaroscotty.com
YAHOO IM:
CamaroScotty /
FACEBOOK:
Camaro Scotty
Quote:
hit RETURN after your pic links, then the thread won't be a mile wide
oops ...my bad lol, im still new on this site
---
1100: 2/23/09
2000: 8/7/09 (finally)
3000: 8/11/09 (TPW 9/14)
3300: 9/2/09
3400: 9/14/09
3800: 9/22/09 vin 48156 has been born