ebay: 1977 Camaro
---
Listed a 1977 Camaro on ebay tonight
V8, Auto, new wheels, new auto transmission
Reserve - $3,000
Ebay Link
Admin/ChevyBlazerRep
Join Date: Oct 2008
Location: Ocean City NJ
Posts: 4,638
That looks nice and I was like 3k what a deal but then i read more into it and in the long run it will cost me much more than 3k
---
June 2015 MOTM

"I live my life a quarter mile at a time, For those ten seconds or less, I'm free.
I like it
---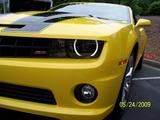 2010 Camaro RS SS LS3 (Bumble Bee) Vin#192 & 8 others made by GM and one Christine
It's a 20 footer for sure. Priced accordingly I believe
that is a hellva paint job. Must have paid a blind man or a maaco.
---
to Err is human, to blame someone else shows good managemt skills

06 Ponitac g6 gt
2010 Ram2500 Megacab Cummins
2010 Suburban LTZ
2012 Camaro 45th Aniv. Vert (Very shortley)
The wheels look great on the car. It looks really good is some of the further away pics.
---
1998 Camaro A4 7.06 @ 96.5 MPH NA 1.47 best 60ft
2010 Camaro Tube Chassis work in progress
Lowered reserve over the weekend, car looks like it will sell
****, I'm to far away. I'd jump all over that. Excellent car for my teen. Plus it'll get him off my back. He wants to drive my new Camaro! No way.....
i thought only 1976 camaros had those style tail lights. have i been wrong all these years?