Newbie
Join Date: Jul 2011
Posts: 1
1994 B4C/RS330 Camaro
---
13,000obo feel free to make offer
car is %100 now and ready to roll. Freshly rebuilt tranny and ignition system has been gone through. if it dont sell soon i will have it tuned and dynoed. will posible swap wheels if someone is also interested in the z06 wheels on the camaro in the pics.
To sum it up, the car is a B4C package police car. It's the one and ONLY Hennessey Performance Camaro to be made in 1994. True collectors car and the one and ONLY. Car is near 500hp to the wheels now with recent tune. I have 4 magazines that the car was featured in. I have the original wheels along with 3 extra NEW wheels that are the same that's on the car. I have all receipts and documentation of the car and a Carfax report for you. Serious offers only please, don't BS me. Price is $9,000 OBO. Text me for pics have a ton more
will also trade down for a ls1 3rd Gen. or for a boosted car. No junk! I will NOT trade for a $3,000 car so don't ask. Car is in mint condition in & out. Absolutely no rust & we can take the car and put it on a lift and see how clean and well its been taken care of. Below is info & specs on the car & mods for it. If you have any questions text/call me @ 636-352-8576. I will entertain all reasonable offers. I can also email you pictures of the car too.
Color - Bright Teal Mettalic
Vin # - 2G1FP22PXR2163738
Odometer Reading: 65,xxx
Engine 5.7 Liter LT1 V8 383 Stroker
Transmission - Manual T56 JUST REBUILT
Rear End - Posi 3:73 gears
Interior - In great shape & original - Had a B4C rollbar as well.
Interior Color - Grey & black
Interior Material - Cloth
Wheels/Tires - Grand Sports 18x9.5 with Sumitomo tires. Also have original Gotti's need tires though.
Books/Docs Owners Manual - $11,000 in reciepts and all 4 magazines the car was featured in.
Standard options - ABS, cruise control, CD player, power hatch, power mirrors, tilt wheel, rear window defogger, all 4 disc brakes, power windows, AM/FM radio, a.c./heat, power seats, and power locks.
Modifications for engine, exhaust, fuel system & stock power:
Heads are stock aluminum ported & polished, as well as the intake, throttle body is a BBK 58mm, MAF is a Granatelli, motor is a 1995 Corvette LT1 4 bolt engine, EGR block off plate, exhaust has Edelbrock 1.75" headers with crossover pipe to single 3" exhaust to Borla cat-back (extremely LOUD).
Injectors are LT1 30#'s, has a custom tune, bore is 4.030, stroke is 3.750, CID is 383+.030 over, crank is Callies High Performance forged, rods are GM Motorsports balanced & shot peeed ARP bolts, pistons are TRW forged flat tops 10.6-1 with file fit Hasting's race rings. The cam is a Comp Cam 112 centerline, intake 290' @ .050, 236' with .380 lobe lift, springs are Comp Cam 986-16, rockers are Comp Cam Pro Magnum full rollers with a 1.52 ratio & 3/8 studs.
Pushrods are Extreme Duty 5/16 fully studded with heat treated guide plates, timing chain is a Cloyes factory replacement, valves are 2.03 Manley Stainless with undercut stems for a 1.60 exhaust, bearings are Cleveite 77 H Series, oil pump is a Melling High Performance with HD Drive, all machine work was done with all new bearings & Felpro gaskets.
Transmission is a Borg Warner T56 just fixed tranny new sycros and bearings.clutch is a Spec Stage 3 kit with Carbon disc, new tranny mount, has B&M Supercooler/oil coolers.
Suspension has ground control coil over kit with Bilstein HD Shocks, Addco 35mm hollow front sway bar, Addco 22mm hollow rear sway bar, all new ball joints, both upper & lower with bushings from Moog, LCA relocation brackets, subframe connectors from Hennessey Performance, Eibach 1.25 lowering springs from Hennessey Performance.
Brakes are C5 Z06 front brakes, rotors are all new.
emai or text for more pics. feel free to make an offer.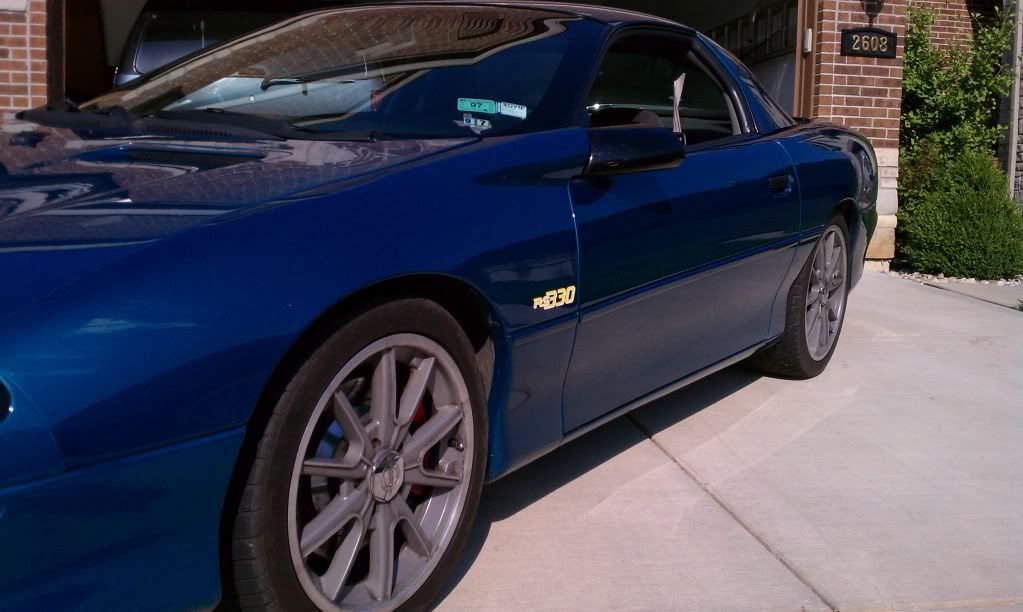 A few questions; you have two prices, 13k and 9k.

Also, never heard of a B4C rollbar; is this a Hennessy rollbar?

Def. need more photos!
---
2005 CTSV BLACK LS7 Clutch/Flywheel/Slave, Tick Speed Bleeder, Tilton Clutch MC, RevShift Bushings, Domestic V8 Solutions (shifter, 8.8 Diff conversion, srut tower braces, sub-frame connectors), SLP cats, no cags, xpipe, bullet mufflers, Volante, iPod dock, G-force tune; 379hp 381tq.

Killing 5th gens like it is my job.
Senior Member
Join Date: Feb 2011
Location: New Bern , NC
Posts: 782
---
2011 2SS/RS , summit white with IOM stripes .Flowmaster American Thunder catback exhaust.