Newbie
Join Date: Sep 2011
Posts: 2
2010 Fesler-Moss Limited Edition #1 Camaro For Sale
---
2010 CHEVROLET – Limited Edition
FESLER/MOSS CAMARO
PROTOTYPE VEHICLE – LIMITED EDITION
SERIAL NUMBER #1 = FMLE2010-000001
PHOTO'S CAN BE SEEN ON PHOTOBUCKET:
http://photobucket.com/FeslerMossCamaro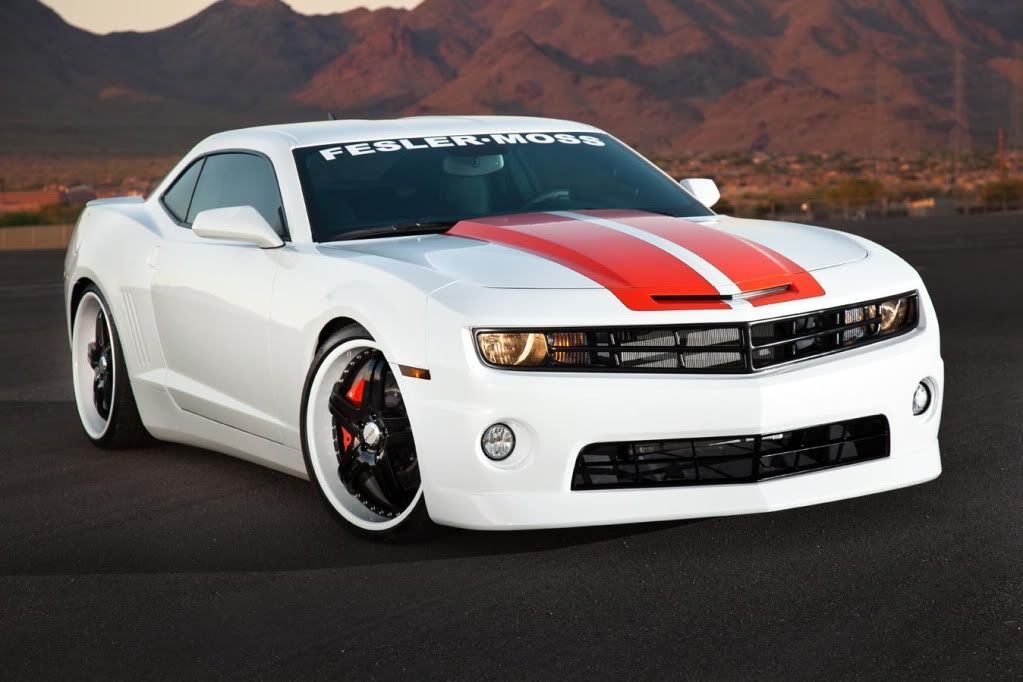 http://i1190.photobucket.com/albums/...ro/Img0004.jpg
http://i1190.photobucket.com/albums/...ro/Img0064.jpg
http://i1190.photobucket.com/albums/...o/Img00282.jpg
http://i1190.photobucket.com/albums/...ro/Img0015.jpg
Auto Appraisal Network $180,000 (Included and Attached)
After lengthy collaboration Jon Moss, a former GM special vehicles manager, and Chris Fesler, the man behind Fesler Built a vehicle customizer and manufacturer based out of Scottsdale, Arizona, have teamed up to build this limited edition Fesler-Moss Camaro. This limited edition Camaro is serial number #1 and the prototype of it's vehicle line up.
The 2010 Fesler-Moss Camaro is a limited-edition, track tested model that produces 600+hp (GM LS9 Corvette ZR1 Supercharged Engine)
The Fesler-Moss serial number #1 of the Limited Edition packages, this is the Camaro of all Camaro's and has been rebuilt into what you see here. The car was rebuilt re-shaped, re-designed and completely reworked with a complete new Carbon Fiber body kit including a front fascia, rear bumper, re-worked doors with hidden door handles (Corvette C6 design), upper and lower billet grilles and rocker skirts. Fesler Branded Baer brakes 6 piston all the way around with 15-inch rotors, 22-inch Fesler FS-914 3 piece wheels and Continental tires, A full Pedders Race suspension with 30 point adj coil-overs, oversized front and rear sway bars along with a newly designed body bushing kit. The stock engine was replaced with a ZR1 Corvette LS-9 along with a new transmission, drive line, axels, all new programming, air aid intake and a Fesler Branded Bi-Modal exhaust including Stainless Steel headers, down pipe with catalytic converters. Next up were black reverse lights and billet accessories. Then added was a new interior package with Fesler Moss branding and a complete Carbon Fiber overlay upgrade. A huge JL Audio sound system and Dynamat to keep the car quiet. Nothing was left untouched on this car. Full alarm, floor mats, tint and a Pillar gauge pod with two gauges in it for boost and fuel pressure. This car is painted with Fesler Moss diamond white and orange.
Below you will find several links and articles featured on the Fesler/Moss Limited Edition Camaro and a unique opportunity for collectors abroad to own Serial Number #1.
Fesler Built:
http://www.feslerbuilt.com/2010FM_Camaro_Page.html
Motorauthority:
2010 Fesler-Moss Camaro Packages Announced
Topspeed:
2010 Fesler-Moss Camaro - Top Speed
Insideline:
Tuner Special: Fesler-Moss Camaro
Amcarguide:
Fesler-Moss custom 2010 Camaro
EGMcartech:
Fesler-Moss 2010 Chevrolet Camaro gives you ZR1 power | egmCarTech
Camaro5:
Fesler-Moss Camaro Images/Details Announced | 2011 2012 Camaro ZL1 SS LT Camaro forums, news, blog, reviews, wallpapers, pricing - Camaro5.com » Blog Archive
Carsroom:
Cars Showroom: 2010 Fesler Moss Camaro Competition
12voltnews:
Fesler-Moss Camaro Packages to Feature JL Audio Mobile Electronics Equipment | 12 Volt News
Jalopnik:
Fesler-Moss Builds A Corvette ZR1-Powered Camaro SS
Sub5zero:
2010 Fesler Moss Camaro - Performance Packages and Pricing | sub5zero.com
Worldcarfans:
Fesler-Moss Camaro SS with Corvette ZR1 Power
The Limited Edition Fesler/Moss Camaro Serial #1 is part of my own personal collection. The pictures and numerous media articles don't do this car justice. The ride and power alone is an experience in itself. It truly is an awesome experience. Included with the auction the car has been appraised for a value of $180,000 and will accompany the buyer and the vehicle upon delivery.
If you should have any question whatsoever please don't hesitate to call me at anytime at 216-469-7474 or
[email protected]
as I would be glad to answer any questions that you may have.
CHRIS MCPHIE
216-469-7474
[email protected]
All Photos and some Content found in this listing is the sole property of Fesler Productions LLC. Duplication of any content without the express written consent of Fesler Productions is strictly prohibited. Please contact them for permission to use our images. Fesler Productions LLC. 480-748-2000,
[email protected]
.
Hi Chris. Please post an intro thread and tell us about yourself - thanks!
Newbie
Join Date: Sep 2011
Posts: 2
Price $125,000 * Few More Pics
---
[IMG]
[/IMG]