My Results Using the DiabloSport Trinity Programmer
---
Well my DiabloSport Trinity tuner showed up yesterday so i immediately got to work setting it up. after downloading the software on my computer and updating the tuner, i plugged the thing into my SS and set it to the Performance 91 Octane Tune with a couple modified parameters. the things i modified were turning the DOD (Active Fuel Management) and Speed Limiter to OFF. i then drove it around the block a few times and began to notice the difference in power. the throttle response was more noticable, and i actually heard the tires screach for the FIRST TIME! it's hard to imagine a 400hp car that doesn't burn rubber off the line, i guess those pirelli's really do work! anyways after a good 30 minutes of break in, i began to do some 0-60 times using the drag simulator that is on this programmer and here are my results:

Completely Stock Average 0-60 time (3 pulls): 5.1 seconds
After Tune Average 0-60 time (3 pulls): 4.9 seconds

That's 0.2 seconds faster off the line! I did some math (thank you college) and that's equivalent to 18hp at the flywheel, 15 hp at the tires assuming 15% loss of power in the drivetrain.

Now i know what your thinking, 5.1 seconds stock? the factory claims 4.6! well i'm not a professional drag racer, and where i live the streets aren't perfectly flat. there's hills and traffic and LOTS of cops, thats why i didn't run an 1/8 or 1/4 mile, too dangerous. but i did do the times on the exact same street from the same light every time with minimal traffic.

Also don't take my horsepower readings as an official number, i calculated them, they're not dyno numbers, just a difference in horsepower of each calculated case.

Another note: if you do decide to get one of these guys, there is a free program called DSLogRedux that lets you import logged data from the tuner and it analyzes the data and tells you what parameters to modify for better cruising MPG and WOT performance. do that with a Hypertech! for more info on it, read the forums at diablosport.com. i already ran this program and i have the modified parameters i will be testing this evening. i will post any new times i get if it improves!

Also, if you have already modified your ride, this tuner is fully compatible, just run the DSLogRedux with your log results and your car should be completely dialed in. if it's heavily modified with LT headers, supercharger, nitrous, cam, etc. then what you can do is install your desired tune into the car, import the tune onto your computer, and DiabloSport CMR Experts will create a CUSTOM tune for these mods! what other power programmer does that?

so if your interested in buying this product, go to DiabloSport.com and check out their promo ad on this product. i guarantee you won't find better customer service and feedback with any other programmer!
---
April 2010 Member/Car of the Month

Gone but not Forgotten!
---
Last edited by RedJewel2SS; 11-19-2009 at

09:40 AM

.
Can't you burn 'em with the traction control OFF?
---
Hurst Shifter / 3" Magnaflow Competition Cat-Back Exhaust / ADM Performance Street CAI / Body Color Tail Light Bezels / Headlight Armor Tail and Marker Light Kit / Fuel Rails and Plenum Cover
Quote:
Can't you burn 'em with the traction control OFF?
yea but i haven't tried, **** rear tires are so expensive i'm trying to preserve their short life!
---
April 2010 Member/Car of the Month

Gone but not Forgotten!
are the customs tunes free? this is the deciding factor for me.
---
Just sayin....
Newbie
Join Date: Jul 2009
Posts: 5
I know there are several on the Diablo site that will tweak your tune for you. just send your tune to them and they will send you back one tha has been adjusted...no charge.
Quote:
are the customs tunes free? this is the deciding factor for me.
what hesh said.
---
April 2010 Member/Car of the Month

Gone but not Forgotten!
Veteran Member
Join Date: Aug 2009
Location: Cali. North Bay
Posts: 1,925
Do you recall seeing any settings for the Torque Management setting? I read somewhere torque is limited on WOT shifts and in other scenarios.

Superchips is saying theirs can tweak on it....
---
Chuck
2010 SIM 2SS/RS A6 SC - Born on 10/05/09

MyCamaroBuildInfo
"You Were Really Flyin' When I Passed You Back There!"
February-2013-MOTM-Winner
Join Date: Nov 2009
Posts: 52
call me an idiot, but in the 2ss camaro you cant turn traction control off with a push of a button?
I had a diablosport for the Formula and hated it. For the money your better off getting a tuner to do a basic street tune.
---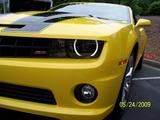 2010 Camaro RS SS LS3 (Bumble Bee) Vin#192 & 8 others made by GM and one Christine