View Poll Results

: Will your Camaro be on the drag strip?

Yes, I will race my Camaro on the track
30
57.69%
No, mine will be a street car only
17
32.69%
Not sure yet
5
9.62%
Voters: 52. You may not vote on this poll
Who will take their new Camaro to a drag strip?
---
So who on here plans to take their new Camaro to the local drag strip this summer?
Will you be running any mods?
Post your info and setup pictures
Veteran Member
Join Date: Oct 2008
Location: Wetumpka, Alabama
Posts: 8,645
Well since mine will be the V-6 street only for me
---
2014 2LT/RS with spring edition package. Proud Litho Owner #28.
maybe some day...free time isn't something I have a lot of...and the closest track is 90 mins away.
---
2010-2SS/RS/LS3/IBM/RP6:
ECS-Paxton Supercharger / American Racing Headers & Exhaust / PFADT Suspension / DSS 9" 4.10 Rear / FOR SALE!
Quote:
Powerfreak is the only one who actually understood anything.
Member
Join Date: Aug 2006
Posts: 220
Local guy here in Orlando took his 2SS/RS to the track a few days after taking delivery
---
-2014 Chevrolet Malibu 2LT
-2012 Cadillac CTS Coupe Performance Edition
-2010 2LT/RS Delivered 10/10/09
-2007 Suburban 3LT
-2001 Z/28
http://www.carshowdisplay.com
we plan on taking ours this Friday if the weather holds
---
"All alone in my funeral home, playing in blood, there's just got to be something wrong with me" -Slayer-
Quote:
Originally Posted by
SunsetHawkSelena
View Post
we plan on taking ours this Friday if the weather holds
Same here, need to get baseline runs before the mods.
Robin
ModernCamaro.com Founder / Former Camaro Disciple
Join Date: Jan 2006
Location: Chicagoland, IL
Posts: 11,842
I'll be at the dragstrip ASAP with mine!
Member
Join Date: Aug 2008
Posts: 240
Even though mine will be "just" a V6 and I'll be running it at 5800' I will take it to the track a few times. Maybe it will be incentive to finally get the tranny fixed in my 00 Z28
mods will depend on how fast they are available
---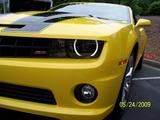 2010 Camaro RS SS LS3 (Bumble Bee) Vin#192 & 8 others made by GM and one Christine
Wouldn't have it any other way, Joe!
---