Put my Vert on Drugz! LED blinkers
---
Finally completed converting my showstopper LED rear sidemarkers to a combination running/turn signals. Other DIY'ers have utilized the dual intensity circuit, but I wanted a little more contrast and went with a "drugz" circuit that turns off the running light when it recieves a signal from the turn signal thus giving it a "blinking" effect. Think I like it. Now to get the fronts done.

[u2b]3p8nFtmSGwU[/u2b]
---
__________________
2011 2ss/RS Black over RJT Convertible-Bre-Z
Facebook @
www.Facebook.com/CamaroCX3Cover
Proud owner of Litho #198
---
Last edited by Pony; 08-07-2013 at

10:00 PM

.
Quote:
Finally completed converting my showstopper LED rear sidemarkers to a combination running/turn signals. Other DIY'ers have utilized the dual intensity circuit, but I wanted a little more contrast and went with a "drugz" circuit that turns off the running light when it recieves a signal from the turn signal thus giving it a "blinking" effect. Think I like it. Now to get the fronts done.

[u2b]3p8nFtmSGwU[/u2b]
looks nice, where did u get the parts from and supplys??
---
2012 1SS/RS IBM M6 Halltech YellowJacket CAI, Kooks 1/7/8 LT's Corsa Sport CatBack SLP 160 Stat
426/424 rwhp/rwtq Kaltech Tune SOLD!!!!

April 2013 COTM Winner
Veteran Member
Join Date: Aug 2010
Location: Springfield, Mo
Posts: 1,534
Looks good!!
---
2010 Camaro 2SS/RS 6spd 426hp
December 2013 Member of the Month
Quote:
looks nice, where did u get the parts from and supplys??
The circuit come from Radiantz.com and are call Drugz ($18 a pair). This is a quicky how it goes;
1. Remove sidemarker, SM plug, SM plug harness retaining clips (1 right by SM housing and another up further by bumper;PIA ) and route/fish this up to the tail light housing area.
2. Cut the SM plug off about1 1/2" back leaving enough of the OEM harness to make connections. Solder/heat shrink 2'(foot) extensions onto the SM plug.
The image shows the OEM SM plug with 2 foot of extra wire soldered onto it and then covered in shrink wrap.
Wrap and/or protect the wires and route the plug back down to the SM area. Re-secure harness with OEM holders or zipties. Now you should have 2 wires from the SM plug and 2 wires from the OEM harness all in the tail light housing area. This is where you now make all your connections and tap into the turn signal. The left turn is yelow/blk and right is Green/Wht.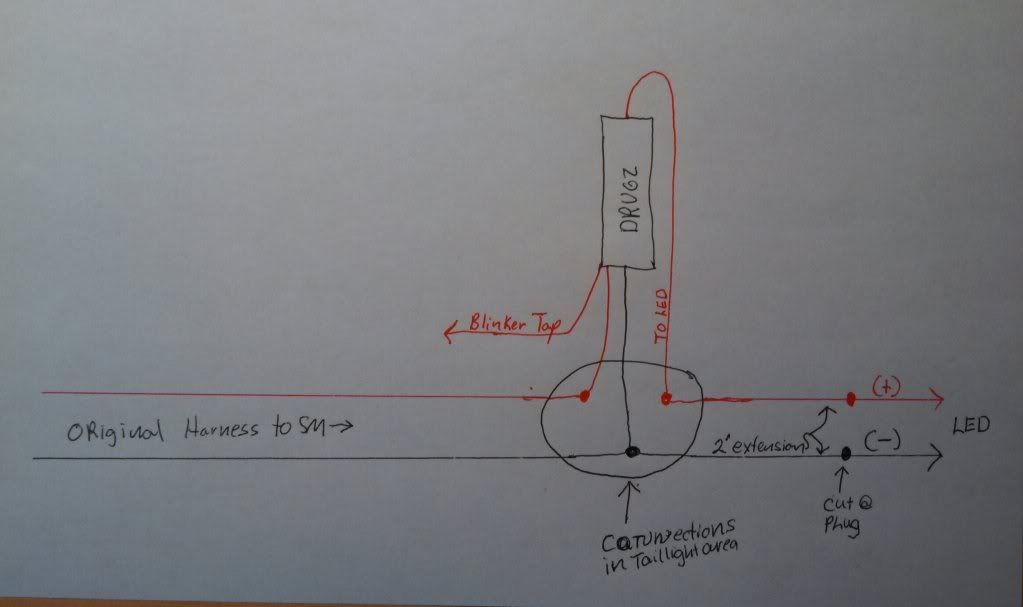 3. You should solder and heat shrink all connections with maybe the exception of the tap into the blinker.
The image below shows the cut OEM harness with the hemostats holding it.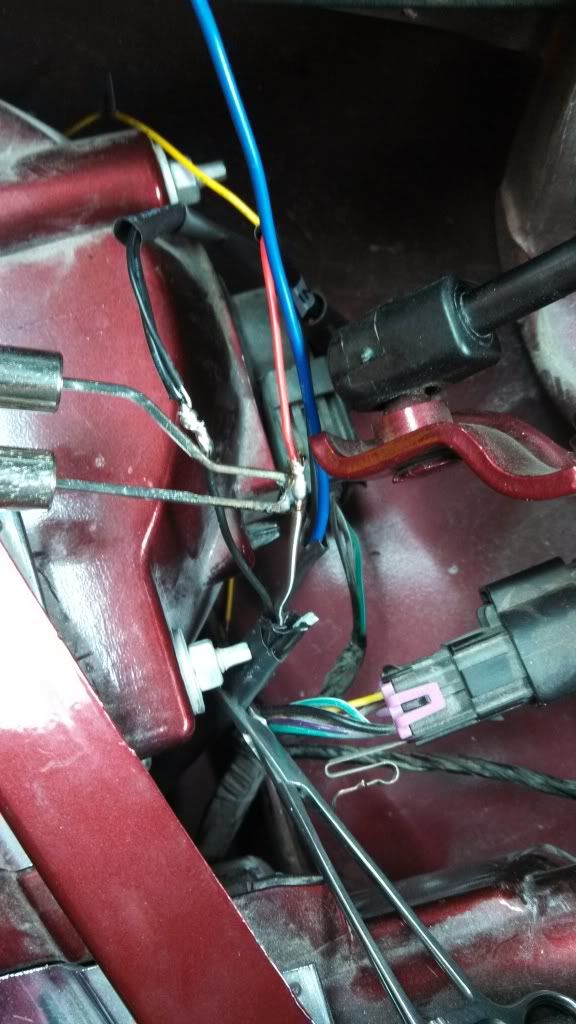 4. Bundle this all together in a neat little package and you're good to go!
Any other questions, Just ask
---
__________________
2011 2ss/RS Black over RJT Convertible-Bre-Z
Facebook @
www.Facebook.com/CamaroCX3Cover
Proud owner of Litho #198
---
Last edited by Pony; 03-11-2014 at

12:59 PM

.
thanks for the info, i think ill leave mine for now, looks like a project lol
---
2012 1SS/RS IBM M6 Halltech YellowJacket CAI, Kooks 1/7/8 LT's Corsa Sport CatBack SLP 160 Stat
426/424 rwhp/rwtq Kaltech Tune SOLD!!!!

April 2013 COTM Winner