The mod purchases have begun
---
I bought these last night in yellow
And I figured We had to have this
They should be here in a few days
---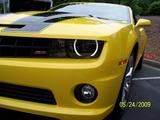 2010 Camaro RS SS LS3 (Bumble Bee) Vin#192 & 8 others made by GM and one Christine
now we just need that oil cap and we'll be set!
---
"All alone in my funeral home, playing in blood, there's just got to be something wrong with me" -Slayer-
I had that years ago........
---
2005 CTSV BLACK LS7 Clutch/Flywheel/Slave, Tick Speed Bleeder, Tilton Clutch MC, RevShift Bushings, Domestic V8 Solutions (shifter, 8.8 Diff conversion, srut tower braces, sub-frame connectors), SLP cats, no cags, xpipe, bullet mufflers, Volante, iPod dock, G-force tune; 379hp 381tq.

Killing 5th gens like it is my job.
Senior Member
Join Date: Apr 2008
Location: Jacksonville, NC
Posts: 738
I thought about making a Decepticon Camaro, because I like them more than the autobots.

My wife made fun of me....so did my friends....I'm pretty sure my pet bunnies called me an idiot too.