Chatroom
---
Sticky & Lock please
(not just lock
)
CLICK HERE
to access the CHATROOM!
If it's blocked you can try this
link!
It's an IRC chat so it might be a bit confusing to some of you at first, but you'll get used to it quick. And if you have any problems, feel free to ask for help in the chat or PM me!
Please refrain from posting in this thread unless you need help. I don't want this to get locked again because of flaming/fighting in general. Thanks!
BY THE WAY. "Ninja650r" is ME! I am using that nickname because it is already registered to me, and i use other IRC chats besides moderncamaro.
---
Last edited by SSRS; 01-13-2010 at

04:50 PM

.
HOW TO CREATE AND REGISTER A NICKNAME


This is the first thing you are going to see when you click on the link for the chatroom. and you will see it everytime you click the link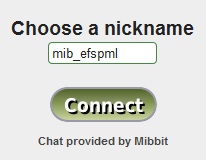 what you need to do is enter your Username in the box
and click connect. this is the next thing you are going to see

CONTINUE IF YOU WOULD LIKE TO REGISTER YOUR NICKNAME

Other wise you don't need to read the rest of this
in the text box copy and paste the following information. remember to replace password with your password, and email with your email
DO NOT USE A YAHOO ACCOUNT
:
/msg nickserv register password email

enter it as shown in the picture below

don't worry, nobody will see what yo have typed in, so long as you copied and pasted it correctly. make sure there is NO SPACES before the "/"

you will get a verification like this (ignore that i used yahoo. it was a mistake)
check your email!
this is what part of the emai should look like. copy the highlighted part
You should get this for confirmation.
CONGRATS YOUR NICKNAME IS NOW REGISTERED! NOBODY ELSE CAN USE THIS NICKNAME NOW EXCEPT FOR YOU!

wait! you're not done yet!!!!!!!

IF YOU LEAVE THE CHATROOM, YOU WILL AUTOMATICALLY BE SIGNED OUT!
To sign back in, join the room as you normally would have. and then type in:
/msg nickserv IDENTIFY password
don't forget to replace password with your actual password

and then you're logged in!
hope this helps
---
Last edited by SSRS; 01-13-2010 at

04:49 PM

.