CTSV running 9's
---
---
1998 Camaro A4 7.06 @ 96.5 MPH NA 1.47 best 60ft
2010 Camaro Tube Chassis work in progress
holy crap!!
that is just so sick.
---
"All alone in my funeral home, playing in blood, there's just got to be something wrong with me" -Slayer-
nice
---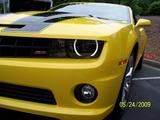 2010 Camaro RS SS LS3 (Bumble Bee) Vin#192 & 8 others made by GM and one Christine
SEX ON WHEELS!
---
2005 CTSV BLACK LS7 Clutch/Flywheel/Slave, Tick Speed Bleeder, Tilton Clutch MC, RevShift Bushings, Domestic V8 Solutions (shifter, 8.8 Diff conversion, srut tower braces, sub-frame connectors), SLP cats, no cags, xpipe, bullet mufflers, Volante, iPod dock, G-force tune; 379hp 381tq.

Killing 5th gens like it is my job.
Dayum. The caddy that zigs!
---
2000 Red 1SC Z28 A4 - dead for now
2005 Black GTO M6 6.0 - Split daily driver
1987 Silver Fiero GT - Split daily driver
can't wait to see what the wagon can do...imagine a 9 second wagon haha
---
2011 Chevy Camaro 2LT/RS Convertible Auto, CGM
2010 Chevy Camaro 1LT 3.6L Manual [Production #115] Black with cyber grey stripes (
http://www.cardomain.com/ride/3370622
)
Traded 12/10/11
August 2011 MotM
-
"Team LLT"
representative
South Jersey Camaro Club member