Final Destination 4
---
Final destination 4 is currently being filmed here. A friend and I just got thru cutting a ford 9 out of a car they used to film. He got an excellent deal.They allowed us to go inside the set to see a scene that was a "hot set" featuring a part where a movie theater blows up. There were people all over the place in costume with mangled faces, nails and glass sticking out of them. They also showed us a different scene that has a scion that gets filled up with water drowning the girl inside. The removed the interior welded the doors shut and rhino lined the interior. They installed fire hose connections and reinstalled the interior. They even had to brace casters under the car to hold it up once it was filled with water. They had some more parts to sell. I walked away with 2 fuel cells for $40.00. If the guy who was suppose to pick up the other parts doesn't show up we are going back for the rest. I know of a few local sets, but this is the first one I was able to walk on while filming.
---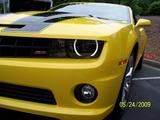 2010 Camaro RS SS LS3 (Bumble Bee) Vin#192 & 8 others made by GM and one Christine
Those are good movies. I like those and Saw, it isn't often you see ORIGINAL story lines come out of Hollywood, too many 'remakes' out these days.