If you have an XBox 360....
---
Go download the free GRID demo! It's a really awesome game, and although you can't drive the Camaro (you have to actually drive a Mustang
) you do get to drive against the Camaro and Challenger. If you catch the right angles in the replays, you can watch the Camaro in slo-mo action!
Anyways, cool game! Can't wait.
---
2010 Stock IBM 2SS/RS
I found $80 in my jeans pocket. The kid in me said "buy nerf guns and candy!" But then the adult in me said "buy vodka, nerf guns and candy!"
I'll have to check it out
---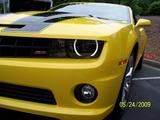 2010 Camaro RS SS LS3 (Bumble Bee) Vin#192 & 8 others made by GM and one Christine