Free phone & long distance
---
http://www.magicjack.com/2/?mid=304185
The UPS truck showed up today with one. My father-in-law sent it to us. I hooked it up and it works great. Free nation wide long distance to include canada. It has a few features like caller id and call waiting. It plugs into the usb port on any computer and as long as you have I think anything but dial up it works great. You just have to hook up any regular house phone to the jack on it and its good to go. Phone sound quality is the same as a regular house line all for only $20.00 per YEAR!!!! Wow I sound like a spammer, just want to spread the work on this product.
---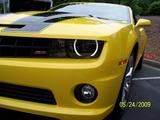 2010 Camaro RS SS LS3 (Bumble Bee) Vin#192 & 8 others made by GM and one Christine
ModernCamaro.com Founder / Former Camaro Disciple
Join Date: Jan 2006
Location: Chicagoland, IL
Posts: 11,842
I saw an infomercial about this once.
Keep us posted on how it works!