February 2012 Member/Car Of the Month: JLUGO
---
Here is Your February Member/Car of the Month!!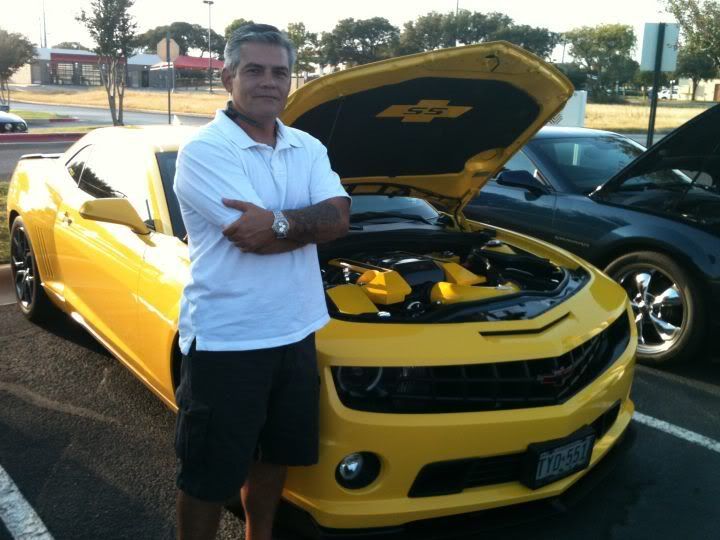 You have been nominated as the Member of the Month for February 2012!!!
How do you feel about that?
I'm totally thrilled of course..Wow...It is a great honor to be recognized .
What got you started with your love for Chevy and the Camaro?
I grew up around the 70's muscle car era. Off all the Chevy and MOPAR the Camaro was always on top on my favorites list. They were the coolest, meanest looking muscle car.
Whats the Story Behind your 5thgen Camaro?
I first saw the concept Camaro at the North American International Auto Show back in 2006 and I fell in love with the car. Later, when the 1st Transformer movie came out, I started dreaming about it. After placing orders with two different dealers and selling my old truck, I ended up buying a showroom one from Bankston Chevrolet in Dallas. Talk to the manager on a Friday and Saturday, I was driving home in my dream car. I haven't been able to erase the permagrin from my face since then.
How did you come across ModernCamaro.com and what made you stick around?
I was searching the web for information about how to track my order, when I came across MC.com. There are a whole bunch of different camaro sites, but there's something special about this one. This forum seems more like a family. I think that's why every day more and more people is migrating over here from other camaro sites. I truly enjoy the free speaking style and supportive culture of all the members here.
How did the Camaro or Chevy in general change your life?
Definitely a change for the better. I have met so many great people since I became a Camaro owner and got involved with the "Coalition" (..the CTC5C). They make the experience of owning a Camaro so much special.
Finally do you have anything you'd like to say to ModernCamaro.com members or anyone else reading this interview?
Yes, I would like to thank all my fellow 'Cen-Tex Camaro5 Coalition' members for been so awesome. Also to 'CamaroFreak ' for nominating me and to all the members of '5th Gen Camaros of the Carolinas' for their support. To the guys and gals from 'South Jersey club' for always been supportive of this forum. And to all the MC members for casting their votes, without your help this would not have been possible
.
I can forget about my GM friends, for bringing back my childhood dreams and making it possible for me to own
one...
THANKS TO YOU ALL!!
Once again Congratulations on becoming February 2012 Member of the Month!
---
June 2015 MOTM

"I live my life a quarter mile at a time, For those ten seconds or less, I'm free.
Junior Member
Join Date: Jul 2011
Location: King, NC
Posts: 19
Congratulations JLUGO, nice ride...
---
2010 SS/RS:
Veteran Member
Join Date: Oct 2008
Location: Wetumpka, Alabama
Posts: 8,645
Congrats and nice write up
---
2014 2LT/RS with spring edition package. Proud Litho Owner #28.
---
Quote:
Congratulations JLUGO, nice ride...
Quote:
Congrats and nice write up
Quote:
(CONGRATS)
Thx's...very much appreciated!!!
Here's a vid and the link to my Photo Gallery;
(
https://www.moderncamaro.com/forum/members/jlugo-albums-killer-b.html
)


<< Exterior Modifications >>
Painted Rally Stripes
IVS HAVOC 'Black Chrome' wheels
Street Scene Chin Splitter
ZL1 sideskirts
Street Scene lower grille ducts
Front Bumper Blackout
Smoked Front Turn Signals
Z-Flex Led sidemarkers
Smoked Tail Lights
Bigwormgraphix Transformer Bowties
v-leds HID WHITE 36 M-SMT BULBS
Brake Calipers Painted (G2 High-Temp Paint)
Corvertible OEM Rear Spoiler (Black)
painted shark fin antenna
Headlights/foglights AAC Halos
<< Interior Modifications >>
SRP Racing Pedals
LSR's Tri Ax Short Throw Shifter
MGW Engraved RS Knob
Chevy 'Bowtie' Seat Covers
Hand dyed stitching (Yellow)
Lloyd 'CamaroSS' logo Floor Mats
Footwell & Cup Holder Ambient Lighting
Steering wheel trim, Gauge Cluster Surround and Console Trim Bezel painted Rally Yellow
<< Performance >>
Pype Bomb Axle back System
Electric Exhaust Cutouts
Airaid MXP Cool Air Intake
Ported/Polished TB
Doug Thorley LT Headers "No Cats"
SLP 25% Under Drive Pulley
MSD 8.5mm Superconductor wires
NGK-TR55 V-Power Spark Plugs
CMC-30 Comp Cam 227_239 duration .629 .623 114LSA 1.7 ratio rocker arms
Custom Tuned by 21st CMC
<< Suspension >>
Eibach Pro-Kit Lowering Springs
Spohn Rear Trailing Control Arms
Spohn Tubular Rear Toe Links
Spohn Competition Rear Anti-Roll Sway Bar
<< Engine Bay - 'Cosmetic' >>
Powder Coated Brake Master Cylinder Cover
Showstopper Wire Harness Cover
Carbon Fiber Radiator Cover
Hydrocarbon Custom Engine Cover w/ LEDs
Bowtie SS Under Hood Emblem w/ LEDs
CAMAROCHROME "SS" cap set
LSR Billet Front Strut Covers
Billet Idler Pulley Cover
Roto-Fab Fuse Box Cover
---
Last edited by jlugo; 04-17-2012 at

10:06 AM

.
---
Quote:
Congratulations! You totally deserve this honor.
Thanks Envy!
---
Congrats Man!! This is a honor well deserved. Loved reading your write up!! Great to have you as a member of this special group here on Modern Camaro!!
---
JANUARY 2012 MODERN CAMARO MEMBER OF THE MONTH
JUNE 2012 CAMARONEWS.COM CAR OF THE MONTH
http://5thgencarolinacamaros.webs.com/
Veteran Member
Join Date: May 2011
Location: Palm Harbor Fl
Posts: 1,107
Congrats!!!!
---
2010 Camaro 2 SS/RS ZEX Wet Shot, Typhoon 63 series CAI, DR Formato Tuned
JULY 2013 M.O.M winner!
Posting Rules

You may not post new threads

You may post replies

You may not post attachments

You may not edit your posts

---

HTML code is Off

---